I'm not a godman, never led anyone to believe in superstitions: Last words of Bhaiyyu Maharaj
In an interview days before his death, Bhaiyyu Maharaj spoke about the Narmada, his philosophy, followers and lifestyle.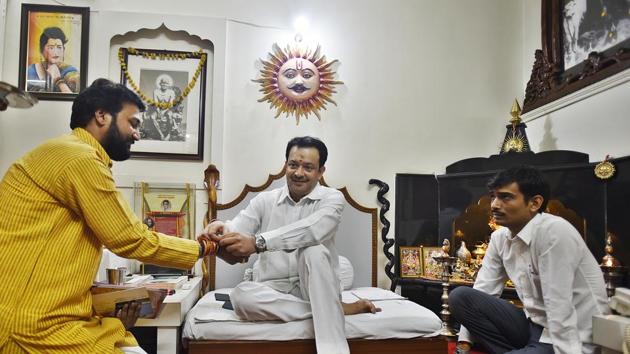 Updated on Jun 17, 2018 09:54 AM IST
Bhaiyyu Maharaj, formerly Uday Singh Deshmukh, was born to a zamindar and a homemaker in Madhya Pradesh's Shujalpur city, in 1968. A science graduate, he modelled for Siyaram's Suitings in his youth. He says his switch to spirituality occurred when he was 23.
His lifestyle became more lavish as he grew in prominence. Bhaiyyu Maharaj was known as the Baba with the Mercedes Benz and Bentley, the Rolex watches and the sprawling bungalow in Indore. He was married twice; the second time in 2017. He was also known for his social work, particularly in the field of agriculture and employment; and he was known to be close to politicians across party lines in Maharashtra.
The 50-year-old was one of five spiritual leaders offered minister-of-state-level positions by the Madhya Pradesh government in April 4. He refused the post, saying he would rather work without interference to preserve the Narmada river.
Bhaiyyu Maharaj died on June 12, from what is believed to have been a self-inflicted gunshot wound to the head. A suicide note indicated Maharaj was "depressed", police said.
When this correspondent met him on June 5 at his ashram in Indore, he had just completed work on a blueprint for the conservation work. He chatted animatedly about this pet project, his philosophy, his followers. Excerpts from the conversation...
On the meeting of politics and religion in India
It is a misconception that politics and religion are merging. Religion and politics are both tenets which emerged to serve humanity. In that way they have always mingled. But as far as the practice of the religious institutions and political systems are concerned, they should not join hands but move parallel, supporting each other. Just like the judiciary, legislature and press function as parts of the greater whole but separately, religion too can exist that way.
On why he refused the status of minister of state
I don't want to be part of the system and I strongly believe that people in religion should work for the system but not be a part of it. Being out of it allows me to point out challenges and questions that the government faces in serving people with confidence, which I will not be able to do if I am a part of it. If I was meant to work in the government, Paramatma would not have chosen me to work in the field of spirituality. My role is defined.
On those that accepted the proffered berths
I can't and don't comment on others. I can only talk about myself, be satisfied or disappointed with myself. Whether I have been able to stand up for my morals is what bothers me.
On his perceived role as a spiritual leader
I am not a godman. I have never led anyone to believe in superstitions. My aim in life is to serve society and the country. The way you cannot imagine Germany without discipline or Japan without time management, one cannot imagine India without religion. So it is natural that the path of spirituality is how I choose to serve people.
On his lifestyle, expensive cars and second marriage in 2017
I don't believe that you need to wear a costume and sit in a cave or a temple to seek spirituality. I enjoy driving my cars but that does not mean I can't plough the fields anymore. I often join hands with farmers to till their land. If you don't know how to earn wealth, how you will guide others on that path.
Close Story
Personalise your news feed. Follow trending topics