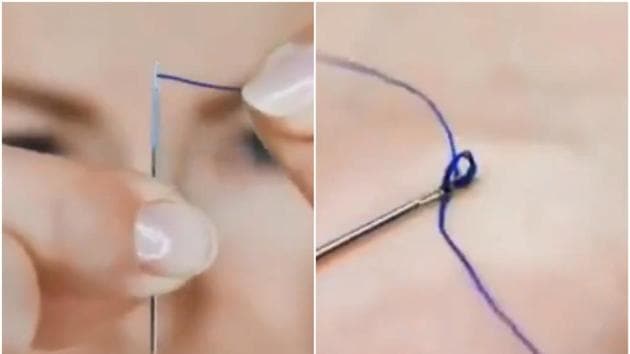 Witchcraft or magic? Twitter can't get over this video of easy hack to thread a needle
Have you been threading a needle wrong all your life?
UPDATED ON APR 10, 2018 04:53 PM IST
If you have ever attempted to thread a needle, which requires a great deal of dexterity and practice, you know how tricky it can be.
Twitter user John Bick shared a video last week, showing a woman threading a needle using a simple hack and it will make you wonder if you had been doing it correctly at all.
"That awkward moment you realize you did it wrong your whole life," he captioned the video.
A woman is seen placing a piece of thread on her palm and rubbing the needle against it till a loop is formed in the 28-second clip, which has been viewed 5 million times. The friction forces the thread to pass through the eye of the needle with ease.
The tweet, which was shared on April 3, went viral in no time, receiving more than 53,000 retweets and 110,000 likes.
Twitter users were amazed to see the video and some even went on to call it "sorcery" and "dark magic".
"Good grief. After 50 years of going cross-eyed," one wrote.
"What type of witchcraft is this?" asked another.
While some tweeple succeeded in getting the hack right, others complained that it didn't work for them.
Of course, the successful ones had a lot of advice for others.
Close