Daddy movie review: Arjun Rampal's film stays on the beaten course
Hindustan Times |
Sweta Kaushal
Sep 08, 2017 06:38 PM IST
Daddy movie review: The film romanticises the hero (Arjun Rampal as Arun Gawli) and then serves the usual formula gangster fare. Where it fails, however, is keeping it all coherent.
Daddy
Director: Ashim Ahluwalia
Cast: Arjun Rampal, Farhan Akhtar, Aishwarya Rajessh
Rating: 2/5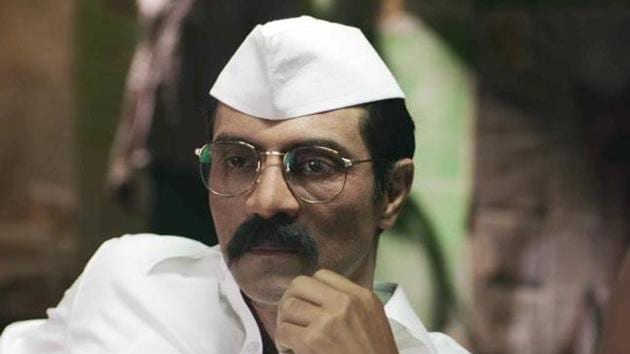 The son of an unemployed working-class man becomes one of Mumbai's most dreaded dons, builds a fortress, then goes into politics, and prison — there's a lot in Arun Gawli's story to interest and intrigue. His writ ran large in the city's Dagdi slum and he went on to wield political power too. But Ashim Ahluwalia's (of Miss Lovely fame) Daddy is not about that Arun Gawli.
His hero (played by Arjun Rampal) may be a mob boss but not a cold blooded killer. His ruthlessness is tempered by his love for his family, his criminal activities balanced by his loyalty toward his friends. Even as bodies keep on piling, Rampal's Gawli stays a man who was forced into a life of crime by his circumstances.
The fact that Daddy claims to be based on the "true story" of Gawli has a lot to answer for. We meet Gawli as a man who protects those who have faith in him, loves his wife dearly and stands by his friends. In fact, he has the sobriquet of 'Daddy' given to him by those under his protection. The filmmaker is so bent on showing us the family man that we get but a few glimpses of the murderer and smuggler that he is.
Ahluwalia romanticises his hero and then serves the usual formula gangster fare –an item number, several gun battles and close-ups of emotional moments. Where he fails, however, is keeping it all coherent. The storyline does not quite match up to the gritty, dark entertainer that Daddy aspires to be with its sepia-toned frames.
The backstories of criminals often make for gripping films but Daddy fails there as well. With a sloppy storyline and over-dramatic dialogues, there is nothing fresh to watch in Daddy except for Arjun Rampal's performance and the film's surprise package – Farhan Akhtar as Gawli's bête noire. Unfortunately, even they are not on top of their game.
Rampal aces his looks as Gawli and his body language is impressive in parts. In the film, Gawli is supposed to be this good-hearted man who is in "bad company". So he does not want to murder anybody but ends up counting his own friend among his first kills.
Farhan plays the role of THE bhai who literally owns the city of Mumbai and is called Maqsood in the film. His first appearance has the feeling of blink-and-you-miss-it feel to it but he is there almost throughout the entire duration of the movie. It is commendable on Ahluwalia's part that despite playing the bigger don, Akhtar does not seem to overshadow Rampal - it is Gawli's story and he must shine. However, this performance will not be counted among Farhan's best.
Unlike most gangster films, Daddy does not glorify its subject but it does worse. Daddy tries to justify Gawli's actions with the decades-old filmy dialogue 'gareebi uska sabsa bada mistake tha'. In fact, at one point, a character even tells an investigating officer, "Agar aap ek chawl me paida hota aur wo (Gawli) ek police officer ke ghar to aap gunda hota aur wo police officer."
Given the time frame of the protagonist's story, the film has a retro look. Unfortunately, even its treatment belongs to the 80s when makers tried to justify the protagonist turning to crime by pointing out his sufferings "before he turned into one". The state machinery must take better care of the citizens and ensure basic amenities but the system's faults cannot be used to justify a criminal's action.
Interact with the author @SwetaKaushal
Follow @htshowbiz for more
ott:10:ht-entertainment_listing-desktop