Hichki movie review: Rani Mukerji's well-intentioned film could have been so much more
Hichki is a well intentioned film that will give you ample opportunities to wipe tears, but it doesn't make a strong comment. Here's our movie review.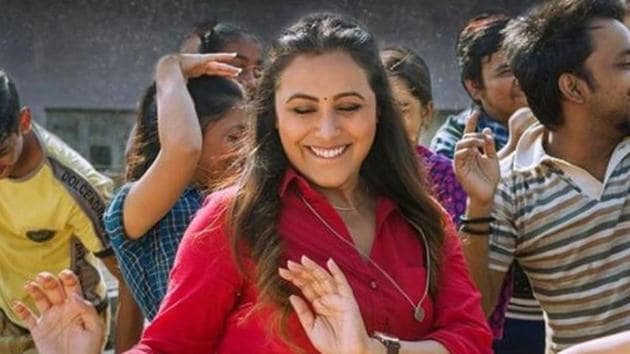 Updated on Mar 25, 2018 04:58 PM IST
Hichki
Cast: Rani Mukerji, Neeraj Kabi
Director: Siddharth P Malhotra
Rating: 2.5/5
There are no bad students, only bad teachers.
We all began dreaming with the help of a teacher. Most of the times they were people and sometimes they were situations. They taught us how to conceal our tears and take defeat in our stride. We became the person we are today because we learnt our lessons. Those who taught us might not be perfect themselves, but they were good enough for us.
Facebook Live discussion on Hichki and Baa Baa Blacksheep:
Hichki is about one such person who is determined to give compassion, knowledge and understanding to the world.
Naina Mathur (Rani Mukerji) suffers from a neurological condition called the Tourette Syndrome since childhood. We are told it's a speech defect that aggravates whenever she gets nervous. She makes unique sounds, more like mildly suppressed screams. She wants to teach because years ago a teacher stood up for her and she understood the impact she could have if she stepped out into the world and did the same.
After 5 years and 18 unsuccessful attempts, one of Mumbai's prestigious schools gives her a chance to teach. The teenagers she is supposed to teach are unruly, live in a bad neighbourhood and feel alienated among students from other social strata. Naina, however, is determined to give them a sense of purpose.
Hichki begins well with a focus on Naina's struggles in life. She is battling a multifaceted war -- within the family and outside it.
Director Siddharth P Malhotra sees a chance to go melodramatic here. He begins exploring the situations to evoke tears. He uses the usual techniques: Heightened background score, people standing and clapping in slow motion and the person of interest drifting alone against a crowd.
The emphasis on drama takes the focus away from the class struggle between slum dwellers and the upper middle class. The anger to be counted as equals has been touched upon but not explored.
To let Rani Mukerji's underdog teacher shine, evil characters are created without any justification. They sort of cushion Rani's saint-like teacher. She, in a way, gets bigger than the cause.
Such stories tend to follow the easier route, and Hichki is no exception.
From Peter Weir's Dead Poets Society (1989) to Zhang Yimou's Not One Less (1999), teachers are expected to take the high moral ground. Hindi films like Sir (Mahesh Bhatt, 1993) and Black (Sanjay Leela Bhansali, 2005) too followed a similar path.
Rani Mukerji takes a cue from these films and blends them with a contemporary issue.
To Malhotra's credit, he has got the formula correct. Hichki is good enough to make you cry multiple times.
Also, the film's is well paced. At 118-minutes, there are not many dull scenes. Then there is Rani Mukerji, sassy, confident and completely aware of her circumstances. She operates within the boundary and tries her best to not let the film deviate from the central theme.
She has got support from Neeraj Kabi and a bunch of happy-go-lucky adolescents, but the lack of depth in film's writing mars Hichki's novelty.
Hichki oscillates between a strong-willed teacher and some kids pushing against the wall. One can be a hero only at the cost of the other. One of them must get an easier win, and the director chooses Rani Mukerji.
It's well-intentioned and will move you, but it could have been so much more.
Interact with Rohit Vats at Twitter/@nawabjha
ott:10:ht-entertainment_listing-desktop
Close Story
Personalise your news feed. Follow trending topics