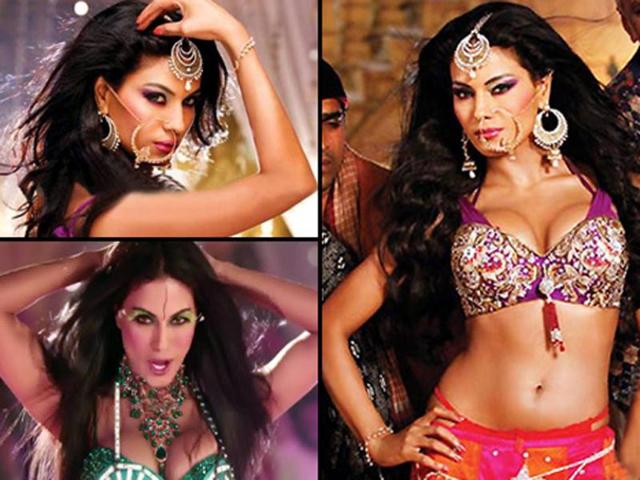 Mayank Shekhar review: Gali Gali Chor Hai
This relentless, blind hatred reflects the Indian middle class' chief pre-occupation. The under-classes that this film, given the grammar, targets though, probably has fewer such issues with their netas, reports Mayank Shekhar.
Hindustan Times | By Mayank Shekhar
, Mumbai
UPDATED ON FEB 04, 2012 01:26 PM IST
Crapola' on corruption

Gali Gali Chor Hai
Director: Rumy Jafry
Actors: Akshaye Khanna, Shreya Sharan
Rating: *

Fade in. Film starts. Camera zooms in on a mysteriously undivided Madhya Pradesh on the Indian map. Either the movie's set before 2000, or the filmmakers don't know better. Singer Kailash Kher cranks up the volume with a noisy song that suitably goes, "Corruption, corruption, corruption ka shor hai," referring to how those who should've stayed back in Chambal live in Delhi now. The person you probably think of is bandit queen Phoolan Devi – once a member of parliament, now no more.

The jibe in the song, like in the rest of the cacophonous film, is directed against all politicians. State election is underway in Bhopal. Our leading man Bharat (Akshaye Khanna, with weirdly weaved hair), his wife (Shreya Sharan), and his father (Satish Kaushik), are residents of this beautiful, leafy lake town. The local MLA fighting for re-election wants to set up office at Bharat's home. Bharat refuses. The vindictive might of the state and a bureaucratic nightmare that follows would make Kafka pee in his grave.

You've read up till this far. This shows your interest levels, I guess, so I may as well offer you the plot. Eat this: A cop (Anu Kapoor) knocks on Bharat's door claiming a thief has been found with an old table fan supposedly stolen from their home. The hero takes rounds of courts each day thereafter, saving himself from tyranny of other cops, chatting up thieves, hobnobbing with lawyers, greasing palms of witnesses and policemen. He's shelled out Rs 31,000 already for a fan that's probably not even his – at least he didn't even know it existed. All this is supposed to contribute to some sort of humour, I presume. It underlines the filmmakers' aversion towards dirty rotten politicians, and the "system".

This relentless, blind hatred reflects the Indian middle class' chief pre-occupation. The under-classes that this film, given the grammar, targets though, probably has fewer such issues with their netas. They consider politicians as feudal patrons of their caste, community or religion. The rest of India finds this hard to understand. The corrupt MLA eventually wins the election.

Jaffery, the director, has been a writer for David Dhawan comedies for decades now (Hero No 1, Coolie No 1, Jodi No 1 etc). His directorial debut God Tussi Great Ho was a Bruce Almighty remake. This one is clearly inspired by Delhi's Ram Lila ground fast-cum-carnival of 2011. It helps that the bank cashier hero is a part-time actor at the Ram Lila in his town. He's forced to play Hanuman to a Ram, who's the MLA's brother.

At home, his wife gives him hell, for no conceivable reason, over a hot paying guest (Mugdha Ghodse). At night, the third-rate 'Ram' screws him over. During the day, rogues of the state do him in. Exploitation is complete. Public mood is adequately captured. Arab Spring threw up brave martyrs. India's anti-graft, people's movement revealed opportunists through the media such as these.

Before its release, the makers took this film over to the village Ralegan Siddhi to show it to the narcissistic, anti-corruption, anti-Congress, prohibitionist, celibate/bachelor poster-hero, activist Anna Hazare. They rightly removed the 'item song' featuring Veena Malik's wonder-bra, fitted with light bulbs, from that show. Good. They would've been taken for a public flogging at the village square otherwise. Hazare loved the movie, I'm told.

He would. After all, it concerns the suffering of the poor, educated, suffocated common man. Who is suppressed and run over, yet can't open his mouth to clear all misunderstandings at home and outside at once.

Table fan plot gets ludicrously stretched further. Hero's wife leaves him, house gets sold off, cops continue to slip their dirty fingers into his wallet. He goes, "But I was saying," "I mean," "Excuse me, the point is," "Hello, ah, hear me, "Um, but then… " Is he an airhead? No, just an actor handed a horrible script. Yeah. Happens.

Close