Movie review: Originality? What's that, ask Farah Khan in Happy New Year
Oct 28, 2014 02:27 PM IST
You cannot miss Shah Rukh Khan's film Happy New Year's obvious resemblance to Hollywood's Ocean's 11 series. But it's Farah Khan's baby, and therefore it has the mandatory 'formula' and all those old Bollywood references.
Film: Happy New Year
Cast: Shah Rukh Khan, Deepika Padukone, Abhishek Bachchan, Boman Irani, Sonu Sood, Vivaan Shah, Jackie Shroff
Director: Farah Khan
Rating: 2.5/5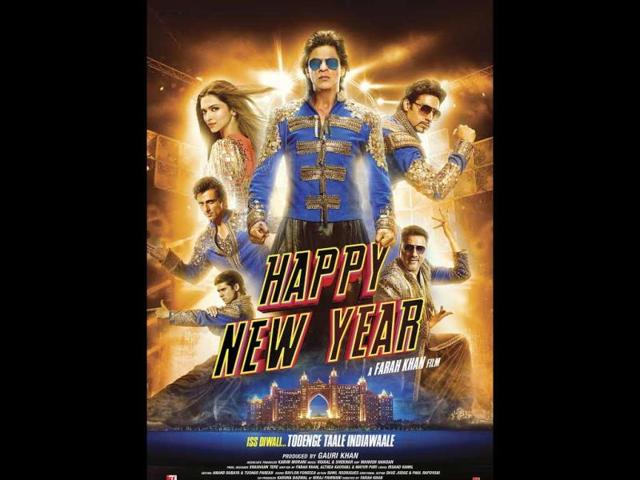 How would you define a good film without getting involved in its subtext? Probably the simplest answer is: If it holds your attention till the end credits, it's a good film. Happy New Year gives you enough reasons to stay inside the hall. But whether all those sequences come together to make a composite whole or reduce the film to yet another mindless potboiler, depends entirely on your perception.
There're spoilers ahead, so you're requested to come back to this review after watching the film. But if you don't mind a bit of advance information, don't stop reading now.
Watch review:



Charlie (Shah Rukh '8-pack abs' Khan) is secretly putting together a deadly team to avenge the death of his father Manohar (Anupam Kher in an 'emotional appearance': this is how the opening credit introduces him), and the villain of his life is Charan Grover (Jackie Shroff). Nandu Bhide (Abhishek Bachchan), the vomiting expert, Mohini (Deepika Padukone), a boneless bar dancer, Jagmohan (Sonu Sood), the Bollywood version of Bacher from Ocean's 11, Tammy (Boman Irani), 'jagat' uncle, and Rohan (Vivvan Shah), the expert hacker, are Charlie's aides and together they set out on a task to give Charan the biggest shock of his life. However, the only problem is Dabbo DC: basically WDC, or World Dance Championship, sponsored by Charan.

Needless to say, this is also Charlie's last chance.

Never mind the forced urgency here. Just a few minutes into the film's beginning and you cannot but not think of it's stark resemblance to Hollywood's Ocean's 11 series. But it's Farah Khan's baby, and therefore it must have the mandatory 'formula' and all those old Bollywood references. So, it becomes more like Manmohan Desai going the Hollywood way. Just for the reference, Farah had categorically mentioned the value of Manmohan Desai brand of cinema in Om Shanti Om and HNY seems like an extension.

Danny..errr..Charlie assembles and assigns a role to everyone in his team according to their calibre and image in Bollywood. Now, what does that mean? This means money is not the strongest reason that keeps them together. There's a family angle to it. Something which has become obscure in the Hindi film industry some ten years ago with the arrival of new age directors. Once everybody's clear about the reason, the only thing that can potentially bother the writers is the binding of chunks.

Also read:

This is where the importance of SRK's brand value comes into play, but what a bad way to showcase it? The extremely unimaginative writing in this part makes the characters utter famous dialogues from SRK's films. At this juncture, the director seems so full of herself and Shah Rukh Khan that Happy New Year becomes the collage of many mediocre Bollywood moments.

Anyway, Shah Rukh Khan, who clearly understands the difference between playing a street fighter and a con artist in two consecutive sequences, tones down his skills to fit into the scheme of things. It's not bad for his fellow actors who get an opportunity to bloom and display their respective talents, but it hampers his acting graph. Leave acting graph, it's his individual choice, but the character graph also suffers because of it. The eruption point is not at a higher ground than the original point and there is not much displacement either. Either you go like Danny Ocean who knew from the first moment that money is his topmost priority, or you go like Sardar Khan who lived for revenge. Blending both means it has become a sharp edge which will test the depth of your screenplay.

Come to the screenplay. It would have become more gripping if it was original because then you have an unseen path to tread on. Here, the basics are taken from other films and then they are churned out together. What suffers badly in this process is the novelty of the idea and presentation.

The tempo rises but in a very restricted way. The sheen of a villain's deeds fades in order to pave way for the hero's brand building. To be precise, the bad guy fails to communicate his evil thought process because the hero eats up his screen time. The director is still not ready for any introspection, as one of the character says, "Olympic ke liye players aur Oscars ke liye losers!" Do you think there was any pun intended!

The film has some fantastic moments as well and most of them involve Deepika, the most earnest of the lot. She tries the best any heroine can do in such situations. She gets the accent right, dances with full heart and brings out the simplicity of a chawl girl.

Also read:

Abhishek Bachchan is good at comedy and he packs some punches but the problem with his character is also the same. The audience anticipates its next move well in advance.

Farah Khan doesn't shy away from owning up to the fact that 'masala' Bollywood is her pick and it serves her purpose to some extent. The audience would have enough to cheer and jeer on but what they will take home is unclear. Basically, the philosophy of the film is vague and in line of the escapist Bollywood cinema. And, we are not even talking about logic yet.

Don't talk about the clichés either as Happy New Year will be reduced to a mere collection of songs in absence of them.

That reminds me, HNY has some really grooving numbers, especially Indiawaale and Nonsense Ki Night.

Like her previous films, Farah has once again roped in a number of known Bollywood faces including Anurag Kashyap, Sajid Khan and Dino Morea and that may provide her an edge over the movie goers who consider Hindi cinema just another mode of entertainment. Just don't ask me what they were doing in the film. As they say, eventually you would also understand.

It's entertaining for sure but it would have been easier for the viewer to form a positive opinion about the film if it would have been edited by at least 20 more minutes. The 'close to three hours' duration makes one uneasy and also induces repetition.

Happy New Year is a film which the crowd will force you to see as it has all the elements of the popular Bollywood. The presence of a big starcast will only add to its charm but then your opinion about it will be mostly dependent on the kind of cinema you want to see in future.

However, one question bothers me. If Vivaan was so good at hacking, then why didn't he hack into Jackie Shroff's account and stole his money? After all, Charlie's team didn't mind breaking some laws. Why did they even consider going to WDC? Tab film nahi banti na. Exactly my point.

As far as a final verdict is concerned, there is nothing wrong with Happy New Year if all that you are looking for is a good timepass and entertainment. (Interact with Rohit Vats at Twitter/@nawabjha)