Poomaram movie review: This Kalidasan Jayaram starrer is a celebration of everything art
Poomaram movie review: Keerthanai, Varnam and Raagam are important elements of this Kalidasan Jayaram film, not just because of the competitions that these students take part in but because it is as much a part of composition of the shots.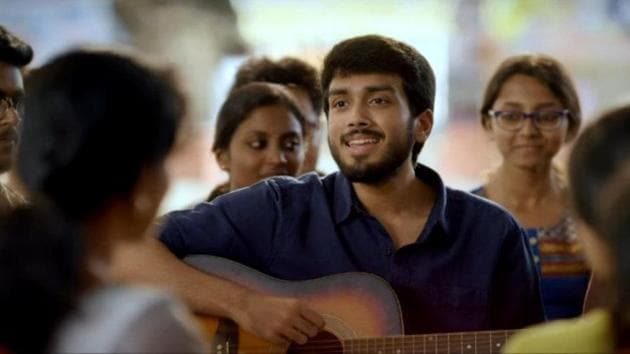 Updated on Jun 19, 2019 08:47 PM IST
Poomaram
Director: Abrid Shrine
Cast: Kalidasan Jayaram
Star rating: 3
Poomaram is a celebration of art in every form – mime, dance, music, poetry, painting and more. Kalidasan Jayaram plays the lead role in this beautiful musical that documents the hard work that goes into winning the Mahatma Gandhi University Youth Festival's championship. In contention for the grand prize are 350 colleges, but the movie focuses on the journey of the reigning champions – St Treesa (Teresa) and Maharaja College.
I use the word "document" here, because the way the film is treated is more like a documentary than a feature film. There is a poignancy that one can appreciate in every line of poetry uttered in the film, especially if you are a fan of these art forms. For instance, Gautham's father – a retired sculptor – tries to explain to his son that poetry is not about how much time or pressure has gone into the lines, but the lines themselves. He explains that by quoting the example of Lord Byron, who was asked to complete the phrase "Jesus turned water into wine" as part of a competition. As the renowned poet didn't have a clue about this, he wrote: "Water met its master and blushed".
The movie depicts St Treesa as a college that's careful about expenditure despite having good sponsors, and Maharaja College as an institution armed with the temperament to take home the trophy despite having no financial supporters of note. The difference is not just in the economic background, but also the manner in which each institution approaches the championship.
St Treesa is logical about how it's going to retain the first position – they bank on average scores and sure-shot victory in certain events. Maharaja's council members have a stricter code as a team, but they approach the competition in the hope that their hard work will result in victory.
There is a beautiful song here about a man who loses in love that comes right before the competition. This is more like simile on silver screen.
Keerthanai, Varnam and Raagam are important elements of this film, not just because of the competitions that these students take part in but because it is as much a part of composition of the shots. As a girl sings odes to silent desires in the background, we see the beginning of attraction and the way the lyrics of the song imposes over the story is beautiful.
While art is showcased beautifully, the usual occurrences at youth festivals are also portrayed well in the film. These include love at first sight, paid results in competitions, fight between different colleges, confessions, and more. They are accompanied by the right piece of art in the background in the form of performances by students.
A scene where Killi Aka Vivek Singh tries to confess his love to Meenakshi is followed by another that has students being locked up at the police station for creating a ruckus. This 15-minute stretch in the movie is laugh-out hilarious.
As the festival races to an end with Maharaja College at first place, Music College at second and St Treesa at third, things change for the worse and a question arises. What is the use of a trophy that a team wins after destroying somebody's future? Is taking the stage worth it when you know that you have done something unforgivable? So what could have been one of the most powerful mime performances never takes place. This one moment is heart-rending. The film has flaws but works despite those flaws because it has the heart. Yes, it seems to be too much of a stretch. It could look like a tape about college fest, but to me it stops short because of how beautiful it is.
This film was a good experience, but solely because of the music and screenplay. In terms of characters, they were very well-etched supporting characters (especially Kili and the mohiniyattam teacher of Maharaja College). As there wasn't enough scope to see Kalidasan perform, this might not have been his best choice for a debut.
Author tweets @Priyanka_S_MCC
Follow @htshowbiz for more
ott:10:ht-entertainment_listing-desktop
Close Story
Personalise your news feed. Follow trending topics