500kg Egyptian woman Eman Ahmed showing signs of recovery, say doctors in Mumbai
Updated on Feb 28, 2017 01:56 PM IST
The city hospital and the doctors are treating Eman free of cost but as she will need to make trips between India and Egypt during the three-four year long course of treatment, a fund raising campaign was initiated to help her with the expenses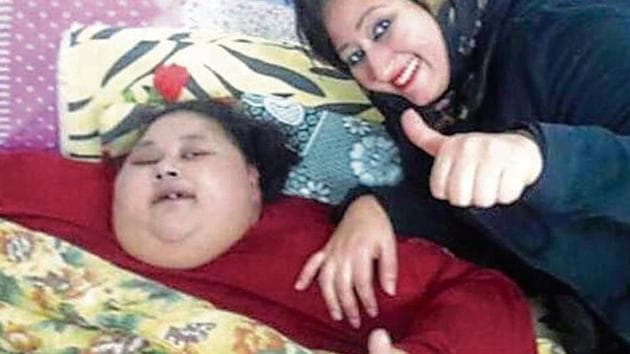 Hindustan Times |
, Mumbai
Sadaguru Pandit
Doctors treating Eman Ahmed Abd El Aty, the nearly 500-kg Egyptian and possibly the world's heaviest woman, have said she has lost a considerable amount of weight within the last one month.
Eman arrived in Mumbai on February 11 for a weight-reduction surgery and is being treated in Mumbai's Saifee Hospital. Doctor say the 36-year-old needs to lose 200kg in the next six months.
"Physiotherapists and the diet team are keeping a close watch on her. Right now, we are focusing on stabilising her hormonal levels and kidney functions, reducing water retention and increasing limb activity, that will ultimately help her increase her metabolism rate," one of the top doctors on the 13 member panel treating her said.
Officials at Saifee Hospital said her weight loss is being tracked by using a special weighing scale since she is unable to stand up and she cannot use a normal machine. "It's a metallic weighing scale with a customised wooden plank to lift her and measure her weight," an official said.
The hospital is also using a pulley-based lifting swing to take her to the refreshment room.
Every organisation involved in her treatment is working on a pro-bono basis to ensure that her family, which is not financially strong, doesn't face the burden of the extensive medical costs. The hospital and doctors are treating Eman free of cost but there are other expenses involved.
Eman will need approximately Rs 80 lakh to just travel between the countries considering her special needs. She will have to make several trips between India and Egypt during the course of her treatment in the next three or four years.
A fundraising campaign has been launched to help her with the expenses. With 53 days left before the deadline, the campaign has already raised Rs 19.46 lakh with the help of 169 supporters. One of her well-wishers donated Rs 89,300 to Save Eman campaign on Wednesday.
Eman's sister Shaimaa, a former engineer, left her job to look after her. Shaimaa has a 2-year-old daughter who is with her grandmother in Alexandria. Eman lost her father six months back and her mother manages her daily expenses by stitching clothes.
Read more: Eman Ahmed, the world's heaviest woman, will have to lose 200kg in six months
What we know so far:
1) Eman weighed about 5kg when she was born and started to put on weight by the age of 11.
2) She had to discontinue schooling after Class 5 due to lethargy caused by thyroid problems.
3) The continuous weight gain restricted her lower extremities and she started to crawl instead of walking.
4) In 2014, when she weighed 300kg, Ahmed had high cholesterol level and a sudden stroke left her paralysed, impacted her speech and left her completely bedridden.
5) By 2016, Eman weighed about 500kg and was diagnosed with severe lymphedema and water retention, type 2 diabetes, hypertension, and hypothyroidism. She has severe obstructive and restrictive lung disease, gout and is at a very high risk of pulmonary embolism.
6) After repeated attempts to avail medical aid from doctors in Egypt and Greece, Eman's sister Shaimaa started an online campaign which caught the attention of noted laparoscopy surgeon Dr Muffazal Lakdawala.
7) External affairs minister Sushma Swaraj, during her stay at AIIMS Delhi, communicated with officials at the Indian embassy in Egypt who had rejected Eman's visa application to come to India for treatment.
8) Eman, who lay in a specially created bed by Egyptian artisans, travelled in Egyptair freighter aircraft Airbus 300-600 to Mumbai and was brought to Saifee Hospital in an open to sky truck, covered by all sides for security purposes.
9) She is currently at a specially created 1,000 sqft first-floor facility, which used to be the accounts office previously. A ground floor structure, created by Saifee for Ahmed was demolished by Brihanmumbai Municipal Corporation (BMC) due to lack of permission.
10) Eman is currently under observation. Before any surgical intervention, she will need a series of medical tests including routine body check-up and a complete body profile test. Doctors will also do a special gene study for the 91 different types of biomarkers isolated with the obesity related syndrome.
Read more: 500-kg Egyptian woman: Doctors await gene test results to chalk out Eman's treatment
Personalise your news feed. Follow trending topics