Eman Ahmed, the world's heaviest woman, will have to lose 200kg in six months
Updated on Feb 14, 2017 03:02 PM IST
Originally about 500kg, Eman has lost about 20kg during the three week period of continued monitoring and treatment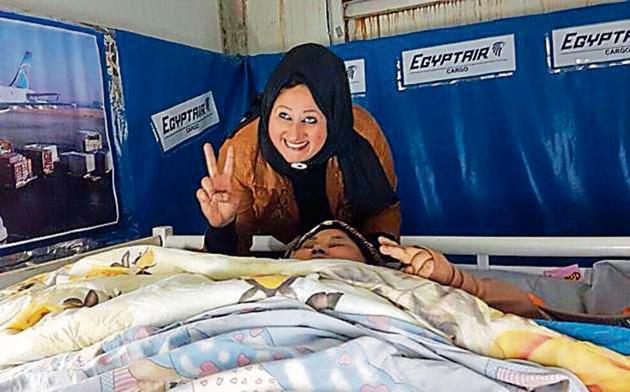 Hindustan Times |
, Mumbai
Sadaguru Pandit
Eman Ahmed, the 500-kg Egyptian and possibly the world's heaviest woman, will have to lose four-fifths of her weight to reach a healthy size.
Ahmed, who was admitted to Saifee Hospital on Friday, began her treatment on Monday, doctors said. As Eman is immobile, the first goal is to help her sit, eat and use a bathroom without help.
The ultimate goal is to bring Eman to a sustainable and healthy weight of under 100kg. Doctors are hopeful of achieving a weight reduction of about 150-200kg in the first six months.
Originally about 500kg, Eman has lost about 20kg during the three week period of continued monitoring and treatment, provided by a team of doctors who had travelled to her home town, Alexandria, Egypt.
Dr Muffazal Lakdawala, Eman's doctor and chairman of Minimal Invasive Surgical Sciences and Research Center at Saifee Hospital, said that for the first four weeks, the goal is to treat her fluid retention issue. The ailment results in excessive build-up of fluids in the circulatory system, body tissues, or cavities in the body, causing weight gain.
"The weight of fluids in her body is about 70-100kg. Once that is cleared, we will monitor her development and take a call on the bariatric surgery," said Dr Lakdawala.
Dr Hemal Shah, head of the department of nephrology at the hospital, said that while water retention doesn't usually result in an increase of more than 5-10kg, it is different in Eman's case. While the body mass index (BMI), a measure of body fat based on height and weight of a normal person is about 24, Eman's BMI is almost ten times higher at 252. Doctors from the hospital said she also suffers from ailments such as severe lymphedema, type 2 diabetes, hypertension, hypothyroidism, severe obstructive and restrictive lung disease, gout and sleep apnea. She is at a high risk of pulmonary embolism.Doctors said the line of treatment will follow a systematic and holistic approach. Bariatric specialists from the US, UK and Australia suggested that Eman should not be rushed into surgery.
"The result of gene study will identify which of the 91 different types of genes isolated with obesity-related syndromes are causing the problem. Depending on the diagnosing of the monogenic disorder — disorders caused by a single defective gene on the autosomes — a call will be taken," said Dr Zoya Brar, Managing Director of Core Diagnostic. She added that Eman's lipid profiles are indicative of a positive trend and a lot of drugs are now available to treat monogenic disorders.
Nutritionists at the hospital started following Eman's diet starting on Monday. Carlyne Remedios, senior nutritionist said her diet will change according to the developments. "For two days after she arrived, we let her continue her old diet. Now, she has been put on liquid, protein rich diet, with fibre and dairy supplements," said Remedios.
Eman, who consumed about 1500 calories daily will now receive 1200 calories. Moderately active 35-year-old women — those who walk 1.5 to 3 miles daily — require about 2,000 calories a day while active ones — those who walk more than 3 miles — need about 2,200. The difference is owing to Eman's extremely low metabolism, which doesn't allow her to release calories normally.
Dr Lakdawala said one of the positive aspects of the case was ruling out any partial paralysis. "Local doctors had diagnosed her with partial paralysis in right hand and right leg after the stroke she suffered two years ago. But I asked her to move her right hand and leg, which she did," said Dr Lakdawala.
Doctors will also work on her extremely low metabolism rate which is assisting the weight gain. A metabolism rate of an individual refers to the amount of calories a person frees from their body per unit time. "Right now, Eman's body absorbs most of what she eats. Our long term goal is to bring the rate down to 20-25%," said Dr Lakdawala. Doctors will also work on the size of her intestine to reduce food intake.
Language barriers and engineering wonders
Officials from Saifee said it took Eman two hours to travel from her home in Alexandria to the airport. Huzaifa Sherani, COO, Saifee Hospital said local engineers were not fluent in English and he could not speak Arabic. "We communicated through graphs and bonded over coffee, which is called 'kavaa' in the local language. Our intention was to break the wall of Eman's bedroom, safely lift her bed and put it in the vehicle en route to the airport. About 400 cargo specialists and government officials from both countries were a part of the logistical support provided to bring Eman 6,000km from Egypt to Mumbai," said Sherani
Eman's room at the hospital
Eman's room at Saifee hospital is 1000 sq ft and contains a patient room, an attendants' room, a scrub room, and a toilet. It has been furnished with a Citadel Plus Bariatric Care system, a chain pulley, a lifting swing to help Eman when she needs to relieve herself, a Drager Fabius GS, an anaesthesia machine, a central monitoring system, an infusion pump, a Intellivue MP40, an Injectomat Syringe Pump, a C arm BV Pulsera, a Patent Warmer, Suction Machine, page writer TC20, A Lourano Chair and other equipment
Eman's family
Eman's sister Shaimaa — a former engineer left her job — to take care of her. She has a two-year-old daughter who is currently staying with her grandmother in Alexandria. While Eman lost her father six months ago, her mother stitches clothes to earn an income. Every organisation involved in transporting and treating Eman is working on pro-bono basis to ensure that the family doesn't have to bear the burden of the extensive cost. Eman's air-transport alone cost about Rs83 lakh, which the Saifee Hospital trust paid for.
Fund-raising collects Rs 7, 20, 302
A fundraiser set up under the banner 'Save Eman' has managed to collect Rs7, 20, 302. The campaign on BitGiving was set up to help Eman's family. The money will be transferred to a separate account and will cover the cost of her treatment in India. The link to the account is https://www.bitgiving.com/SaveEmanCause
Read
10 things about Eman Ahmed, the 500kg Egyptian woman in Mumbai for surgery
500kg Egyptian woman will arrive in Mumbai on Saturday for obesity surgery