After EVMs malfunction, Election Commission announces repoll at 49 stations in Gondiya; collector transferred
Hindustan Times |
, Mumbai
Surendra P Gangan
May 30, 2018 11:27 AM IST
The repolling will be held on Wednesday, while the counting will be on Thursday.
The Election Commission of India (ECI) on Tuesday ordered a repoll at 49 stations in Maharashtra's Bhandara-Gondiya constituency following a widespread malfunction of Electronic Voting Machines (EVMs) and the Voter Verifiable Paper Audit Trail (VVPATs) during the Lok Sabha byelection on Monday.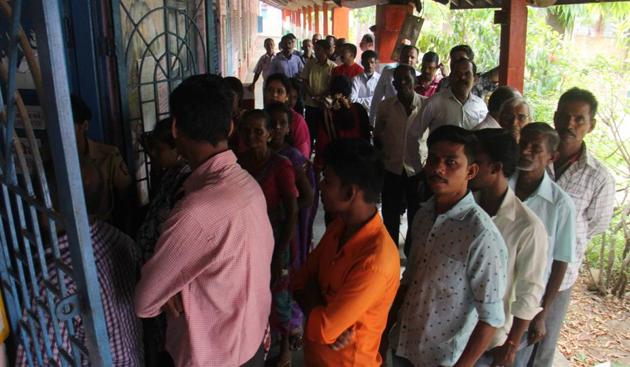 The repolling will be held on Wednesday, while the counting will be on Thursday.
A total of 411 VVPATs and 47 EVMs at 2,149 polling stations malfunctioned on Monday, leading to an uproar among voters. All parties, including the governing Bharatiya Janata Party, demanded a repoll, alleging that the malfunction resulted in a lower voting percentage, as several voters could not exercise their franchise.
At the 49 polling stations where polling will be held again, the machines could not be replaced for more than two hours, resulting in the voters turning back without voting. These stations are from Bhandara, Gondiya, Arjuni, Sakoli and Morgaon.
The ECI also fixed the responsibility of the lapse on Gondiya collector Abhimanyu Kale, also the returning officer in the bypolls.
Following the ECI order, the state government appointed Kadambari Balkawade, a 2010-batch IAS officer, as Gondiya collector and the returning officer for the repoll.
The ECI found that it was administrative laxity that led to the failure of the machines. The election machinery, as per the reports received by the ECI, failed to replace the VVPATs within the stipulated time.
"The reports were based on the diaries maintained by presiding officers at the polling stations and a decision for the repoll was taken by the commission. The booths had seen enormous delay in the replacement of the machines and non-availability of standby machines, resulting from the lack of preparedness among the polling staff," an ECI official said on the condition of anonymity.
According to ECI officers, the faulty VVPATs were five years old and malfunctioned due to a sensor failure, which they attributed to dust and high temperature. "The reasons for the failure of the machines will be ascertained only after counting is completed," said another ECI officer.
The ECI had first used VVPATs in 13 assembly constituencies in the 2014 assembly elections in Maharashtra.