Answer to Maratha protests: Dalits hold a rally in Latur
Updated on Sep 29, 2016 12:32 AM IST
The demands placed during the rally included strict implementation of the Atrocity Act, hearing of Atrocity cases in special courts, capital punishment to Kopardi accused and reservation for Muslims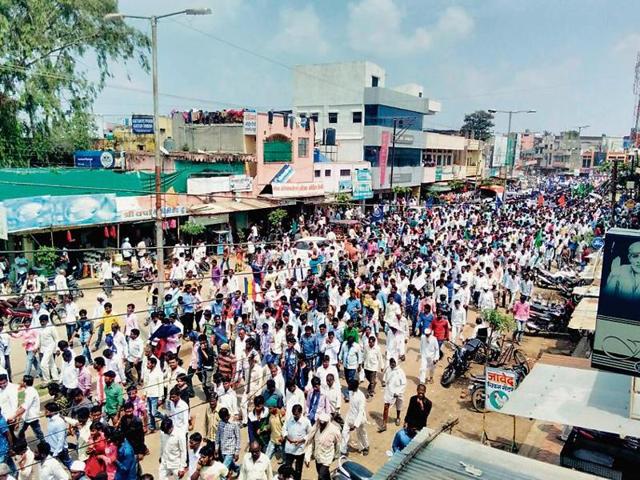 At a time when Marathas are coming out on street in large numbers, demanding among other things amendments to the Atrocity Act, Dalits too have started mobilizing their community to prevent dilution of the law. On Wednesday, Latur witnessed its first retaliatory rally, with crowds demanding strict implementation of the Atrocity Act.
The march, which started at Ambedkar Square and saw participation of activists of AIMIM, concluded after submitting a memorandum to the district collector.
Read: Maharashtra asks why: Three theories behind the Maratha silent protests
The demands placed during the rally included strict implementation of the Atrocity Act, hearing of Atrocity cases in special courts, capital punishment to Kopardi accused and reservation for Muslims. "We are not against the Maratha community. We want to get justice for the dalits ," said Vinod Khatake, a dalit activist, instrumental in mobilising the community.
This was first counter attempt by dalits, after several rallies by Marathas across the state. Citing misuse of the law by dalits, Marathas have demanded changes to the Atrocity Act, which was enacted by parliament in 1989 to prevent violence against Scheduled Caste and Scheduled Tribes. On Wednesday, Marathas took out a march in Dhule.
Read: Data show use of atrocities law on the decline in state
The Kopardi rape incident, in which a minor Maratha girl was allegedly raped by three Dalit youths, triggered the demand for dilution of the Atrocity Act. Several dalit leaders, including Ramdas Athavale, have opposed the demand, while NCP chief Sharad Pawad said the law is being misused by members of the higher castes.
Meanwhile, members of the other backward class have planned a rally in Nashik on October 3 to demand reservation for Maratha community outside the OBC category. A meeting was held in Nasik on Tuesday to make arrangements for the rally.
Personalise your news feed. Follow trending topics