Marathas, Dalits fight over atrocities act, but cases filed on decline
Updated on Sep 29, 2016 01:18 AM IST
One of the main demands made by the Maratha community in the ongoing silent protest matches across the state is a review and amendment of the atrocities act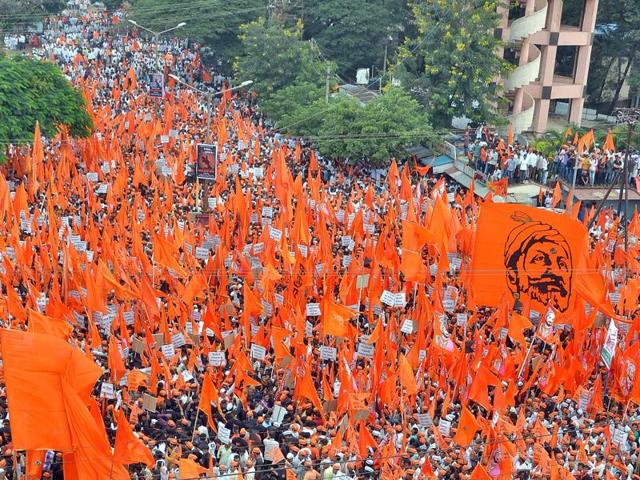 At a time when Maharashtra's Maratha community and the state's Dalits stand divided over the atrocities act, official statistics tell a story of how the use of the 25-year-old contentious legislation, introduced to redress caste-related exploitation, itself has been on the decline in the state.
According to data from the National Crime Records Bureau (NCRB), the number of cases registered under the Scheduled Castes and Scheduled Tribes (Prevention of Atrocities) Act in Maharashtra has plummeted to 2,206 cases in 2014 from 4,756 recorded in 2010.
While sheer numbers may indicate a simple drop in incidents, Dalit activists see them with a subscript. The numbers have declined as a majority of cases are increasingly going unrecorded given the muscle power of the accused persons, their pull in the administrative system and a fear of social boycott of among, they say.
"In a hundred incidents of atrocities, barely five or six get registered as cases," said advocate Keval Uke, general secretary of the National Dalit Movement for Justice.
One of the main demands made by the Maratha community in the ongoing silent protest matches across the state is a review and amendment of the atrocities act.
Their contention is that the legislation is often misused.
Uke questions this agenda, saying, "The act is currently barely being used. How will it be misused? We understand that there is an unwritten missive to the police to minimise the number of crimes registered, and refrain from recording cases under the atrocities act."
The atrocities act was not applied even for the heinous Khailanji massacre of September 2006, when women belonging to the Bhotmange family of Dalits were paraded naked and eventually killed with two boys by members of a politically dominant community in Bhandara district yelling caste slurs.
This is also why the BJP-led government cannot consider a review of this legislation. Besides, standing on thin ground vis a vis statistics and facts, any such move will alienate Dalits not just in the state but across the country.
Ashok Tangade, a Beed-based social activist, said, "Atrocities are never against a rich, educated Dalit. It is the weak, poor and uneducated who is oppressed by persons getting to demonstrate their power and political might through such acts. They have influence over the investigating officers to give a favourable report. The victim is easily swayed."
He added, victims have to run from pillar to post to simply give a complaint, and those who ultimately record a complaint are often distressed with social boycott within the small village.
Tangade recalled a recent case of Asha Kamble, a middle-aged widow from Khadaki village in the Wadwani taluka of Beed, belonging to a scheduled caste. "After harassing her, a few men tried to drive her out of the village. They threw all her belongings out of her house where they lay for nearly three days. With the help of our foundation, she registered a complaint, which the police after its investigation declared as false."
Socially shunned in her village after the incident, Kamble had to ultimately relocate to Beed city, Tangade said.
At the other end, Rajendra Kondhare, general secretary of the Akhil Bharatiya Maratha Mahasangh, gives the same argument as the Dalit activists for the drop in the number of cases - most cases go unrecorded. "It is true that only 10 to 15 percent of the cases come on record under the atrocities act, but that is because members involved from the Dalit community know that their cases will fall flat if they go to the police with them," Kondhare said. He added, "Just yesterday he was apprised of a case where a Dalit school teacher who went on maternity leave came back after four-and-a-half years and threatened the local legislator that she will use the atrocities act if she is not given her job back. There are many cases like these."
Pradeep Salunkhe, one of the leaders of the Maratha Seva Sangh, a hardline Maratha organisation that is seen guiding the protests, said, "The number of cases may have come down due to an overall awakening within the two communities with time. But, even today the atrocities act is misused to threaten people from our community and blackmail them to get work done."
The Scheduled Castes and Scheduled Tribes (Prevention of Atrocities Act) specifies strict penalties in case of atrocities or offences, provides for externment of those likely to commit offences, and calls for special courts for speedy trials
Number of cases registered under the Prevention of Atrocities Act in Maharashtra:
2010
In case of scheduled castes- 3,373
In case of scheduled tribes- 1,383
Total- 4,756
2011
In case of scheduled castes-3,245
In case of scheduled tribes- 1,284
Total- 4,529
2012
In case of scheduled castes-1,086
In case of scheduled tribes- 307
Total- 1,393
2013
In case of scheduled castes- 1,657
In case of scheduled tribes- 407
Total- 2,064
2014
In case of scheduled castes-1,763
In case of scheduled tribes- 443
Total-2,206
In 2014, the number of cases registered under the act in Maharashtra accounted for 4.7 per cent of the total cases registered across the country in that year. In 2014, 47,124 cases were registered against the atrocities act across the country, up from 38,449 in 2010
--Marathas account for about 33 per cent of the state's population, Dalits account for about 11 percent