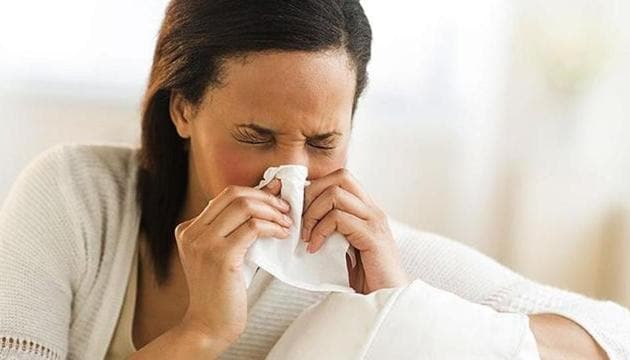 As mercury rises, respiratory ailments in Mumbai shoot up
Doctors advise people to keep themselves hydrated and avoid eating from roadside stalls
Hindustan Times | By Aayushi Pratap
, Mumbai
UPDATED ON MAY 07, 2018 10:49 AM IST
As temperatures in the city rise, an increased number of Mumbaiites are now complaining of cough, cold, fever and upper respiratory tract infections, said doctors.
Dr Om Srivastava, an infectious disease specialist, said that he sees around 10 people a week suffering from viral fever, bronchitis and conjunctivitis.
"The process of treating these infections is taking one or two weeks longer, as compared to the cases that we were witnessing a month ago. A plausible explanation for this could be the antigenic shift in viruses, wherein the surface of the virus undergoes a minimal change, resulting in change and presentation. This is a natural phenomenon," he said.
Doctors have also said that there has been an increase in cases of dehydration, coupled with acute gastroenteritis, as a result of people consuming contaminated water.
Dr Madhukar Garodia, MD physician, practising at Aditi Hospital, Malad (West), said he witnesses about five cases of dehydration per day. Of these, nearly two need to be hospitalised to be given intravenous fluids. "In rest of the cases, patients immediately feel better with oral rehydration therapy," he said.
At the Lokmaniya Tilak Municipal General Hospital, Sion, doctors are seeing scores of patients with viral fever, runny nose, cough, dehydration and vomiting.
"We are seeing nearly twice the number of upper respiratory tract infection cases, along with severe dehydration. However, not many have needed hospitalisation so far. Many patients from nearby slums come in, complaining of loose motions," said a professor from the department of medicine.
Doctors have advised people to keep themselves hydrated and avoid eating from roadside stalls. Dr Srivastava said that seven out of ten cases of clinically diagnosed dehydration can be taken care of by oral rehydration salts. "People must drink at least four litres of water every day. They must also avoid stepping in and out of air conditioning to prevent infections," he said.
Close