Bursting firecrackers? Cops are watching you
Police keep patrolling residential areas and also monitor CCTV footage to track those violating the rules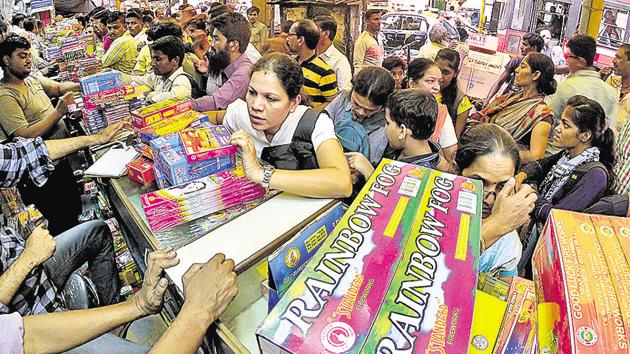 Updated on Nov 05, 2018 12:14 AM IST
Hindustan Times | By Surendra P Gangan and Manish K Pathak
, Mumbai
Following the Supreme Court order restricting the sale of firecrackers in residential areas during Diwali, the state government has issued a circular with guidelines for both, selling and bursting crackers in the city and state. As per the directive, police have been instructed to take immediate action against those found violating the regulations.
"The state government issues circulars before every major festival, listing the guidelines that are to be implemented," said a senior police officer. "In 2016, the time frame for bursting firecrackers was from 6pm to 10pm." This year, it is from 8pm to 10pm.
The officer added that based on a 2017 Bombay high court order, which imposed a ban on the sale of firecrackers in residential areas across the state, the government has also cancelled licences previously given to shopkeepers selling crackers in residential areas.
"Typically, when youngsters light firecrackers in the open space between two residential buildings they disturb the residents. By the time the police are informed and reach the spot, the perpetrators manage to escape," the officer noted.
Police keep patrolling residential areas and also monitor CCTV footage to track those violating the rules. "We are focused on police presence and visibility in crowded places to prevent street crime as well as to make sure that people follow the government's guidelines about lighting crackers," said a senior Indian Police Service officer.
Amitabh Gupta, principal secretary (home), said, "We have issued orders to the district authorities and commissionerates for the implementation of the SC order. Aside from the time restrictions, we have also directed the police to act against illegal sale and violation of rules related to trade of fireworks."
However, environment minister Ramdas Kadam hinted to HT that there is still some ambiguity regarding the mode of implementing the SC order. "I had spoken to chief minister (CM) Devendra Fadnavis to take a call regarding the timings with Shiv Sena chief Uddhav Thackeray as it is a sensitive issue," he said, adding later that he was yet to receive any response from the CM in this regard.
Close Story