Navi Mumbai takes steps to be a model to handle e-waste
Hindustan Times |
, Navi Mumbai
G Mohiuddin Jeddy
Oct 14, 2018 12:43 AM IST
NMMC PLANS Swachh Park in Kopar Khairane will create awareness on handling all kinds of waste
Want to know more about how to dispose all kinds of waste, including electronic waste?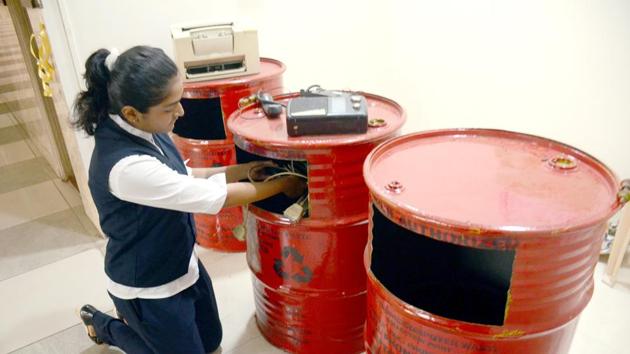 The Navi Mumbai Municipal Corporation has plans to set up Swachh Park at Kopar Khairane in its bid to spread cleanliness awareness among residents.
"The Swachh Park at Kopar Khairane, that should be ready by next month, will seek to create awareness on handling all kinds of waste – dry, wet and electronic," said municipal commissioner Ramaswamy N, while attending the first International E-waste Day on Saturday.
Organised at Sadhu Vaswani International School in Sanpada, the event stressed on recycling e-waste, which is increasing in the city.
Ramaswamy announced a month-long awareness drive on e-waste, saying.
He said, "Navi Mumbai has achieved the distinction of being the second most livable city in the country and ranked among the top 10 in Swachh Bharat Abhiyan. The city will take steps to emerge as a model for handling electronic waste."
The Swachh Park is being built at Nisarg Udyan in Kopar Khairane, which earlier used to be the city's dumping ground. The area was beautified after the dumping ground was closed.
He said, "We have tied up with JJ School of Arts for the first of its kind park in the country to convey the Swachh message. Primarily targeted at children, it will have various models to convey the message."
An audio-visual room will be set up to explain the projects. Models of projects will be installed to show how to convert waste into various products and to recycle it.
"We will have e-waste recycling models too at the park," Ramaswamy added.
Mayor Jayawant Sutar, who launched the collection of e-waste in red bins at the school, said everyone must treat Navi Mumbai as 'My City'. "Only then, initiatives such as e-waste collection will succeed," he said.
PRCI governing council chairman BN Kumar said his organisation launched a pan-India social media campaign to spread awareness on recycling e-waste. "We also floated an online petition to the Prime Minister to aggressively include e-waste as part of the government's Swachh Bharat drive," he said.
The Rotary Clubs will also organise events till November 13 with the NMMC.
Sadhu Vaswani International School principal Mangala Chandrashekhar said lots of e-waste such as computer screens, cords, keyboards, chargers, printers, bulbs and telephone instruments were deposited in red bins placed at the school.