Coast to coast: View work by Indian recipients of the Rockefeller art grants
Published on Nov 29, 2018 06:20 PM IST
An exhibition at DAG, Mumbai, explores how the master artists' time in the US impacted their work, and the representation of Indian art abroad.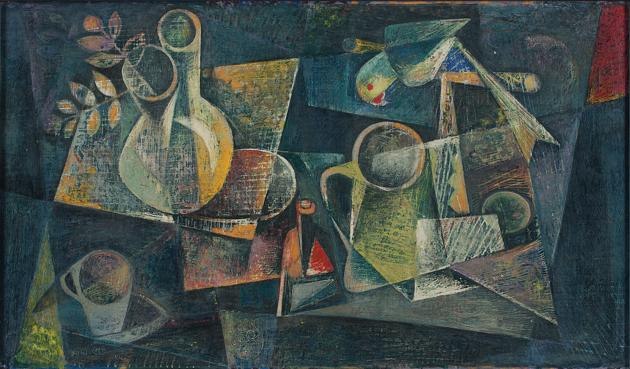 Think of the new show at the DAG gallery at Kala Ghoda as a mix of history, geography, cultural exchange, modernity and art. India's Rockefeller Artists: An Indo-US Cultural Saga, which opens on Thursday, showcases works by 53 Indian artists who have received grants from the American philanthropist John D Rockefeller III and the Asian Cultural Council since the 1960s. These include VS Gaitonde, Tyeb Mehta, Akbar Padamsee, Bhupen Khakhar and Rekha Rodwittiya. And their experience has impacted Indian art in ways we've never fully explored.
The grant isn't a traditional scholarship or fellowship. "It's roughly a one-year period of stay in America," says the show's curator, Kishore Singh. "Artists would experience shows in the galleries there, chat with contemporaries, work with them and engage with another culture at a deep level. They aren't even required to produce any work."
In the 1960s and '70s, an age before easy visas, cable TV and Indian artists at auction, the grant was a rare opportunity for an artist to look beyond their own world. Singh's curation intends to present the works as more than a document of the exchange. "It's about how the year in the US shaped the art practice of so many different kinds of artists, and sometimes not at all," he says.
Artist Ram Kumar was struggling to break free from figurative paintings before 1970. "But they kept forcing their way back into his work," Singh says. "After his return from the US, the figures are eliminated entirely." Tyeb Mehta's work, on the other hand, goes from abstracts to more figures after the grant. And in the works of Krishen Khanna, the year abroad makes the barest difference to the artist's sparse style.
The show opened in New York around this time last year, to what Singh describes as an overwhelming response from the Indian diaspora and Americans. "No one has assembled this collection in its entirety and analysed the outcome of the Rockefeller grant relationship," Singh says.
Singh says the grant programme also improved the representation of Indian art abroad, and believes the exchange is more important than ever now. "Museums are being accused of not being diverse enough," he points out. "These bridges need to be built and the show is a chance to see the work of artists bound by a common connection across different eras."
India's Rockefeller Artists: An Indo-US Cultural Saga will be held from November 29 to February 16 at the DAG gallery, Kala Ghoda. Entry is free.
Personalise your news feed. Follow trending topics