Digest this! 30 tonnes of food waste turns into cooking gas in Chembur, Mumbai
Located in Swastik Park, the club, in collaboration with the Bhabha Atomic Research Centre set up a biogas plant in March and began using it from July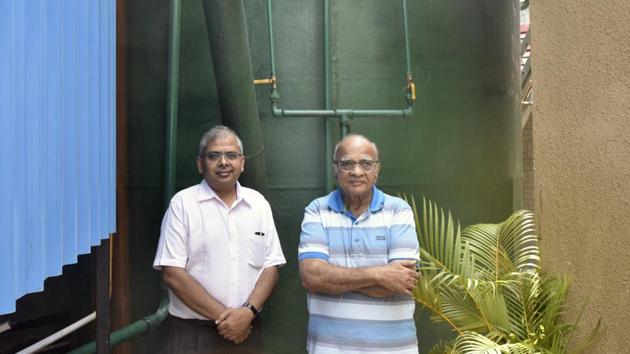 Updated on Sep 03, 2018 12:04 AM IST
One of the largest waste generators in the eastern suburbs, Chembur's Club Emerald, has set an example by treating 30,000kg of organic waste over the last two months and converted it into cooking gas.
Located in Swastik Park, the club, in collaboration with the Bhabha Atomic Research Centre (BARC) set up a biogas plant in March and began using it from July. The plant processes wet waste, mostly food waste generated in the club, accounting to 500kg per day, through biomethanation.
Bio-methanation technology processes kitchen waste, which generates methane gas, through anaerobic digestion. During anaerobic digestion microorganisms break down biodegradable material in the absence of oxygen.
"Being a bulk generator, there was pressure from the Brihanmumbai Municipal Corporation (BMC) to treat waste at source. After ensuring 100% segregation at source, we decided to adopt biogas technology because we had the space for installing the setup and large quantities of waste could be reduced," said Nikhil Mehta, executive director of the club.
Waste is first broken down into fine particles in a crusher and sent to a feed tank. From there, it is pumped into a bio-digester – a chamber where fast decomposition takes place and slurry is discharged into another tank. The biodigester requires water to carry out the methanation process, after which, it releases biogas. The biogas is sent to a storage balloon room, and used for cooking from time to time.
He added that the daily waste generated is converted into 4-6 cubic metres of gas used for at the club's kitchen.
"We save ₹250 each day on the expenses previously incurred on purchasing cooking gas. The entire project, patented by BARC, was installed at a cost of ₹11 lakh, which we expect to recover over the next four years," said Mehta.
Treating waste at source reduces carbon footprint, decreases dependency on garbage trucks, which in turn, reduces traffic congestion, suppresses diseases and harmful pests and encourages community activity.
Jashwant Mehta, chairman of the club, said, "The focus was to reduce the amount of waste going to city dumping grounds. Using the waste judiciously at source was our step towards environment conservation. The residual manure is used to nurture potted plants, a lawn and all other green spaces within the club."
Currently, the BMC collects dry waste only from the club, which is also segregated and sent for recycling, said an official from the solid waste management department, BMC.
"Prior to waste management efforts, our dumper used to go to the club thrice a day but now it goes only once. Bulk generators like Emerald reduces a large amount of transportation cost, and the model can be replicated across various educational institutions and office complexes," the official said.
Close Story