Lost over Google Translate: Rail safety message makes a mess of Marathi in Mumbai
Nov 22, 2017 10:10 PM IST
Stickers in Marathi, asking train commuters to be careful on foot over-bridges, are full of mistakes, and are now being recalled
A railway campaign urging Mumbai train commuters to use foot over-bridges (FOBs) safely has got lost in translation. English and Hindi messages on stickers pasted on the steps of the FOBs, were translated into Marathi, but the job was botched up.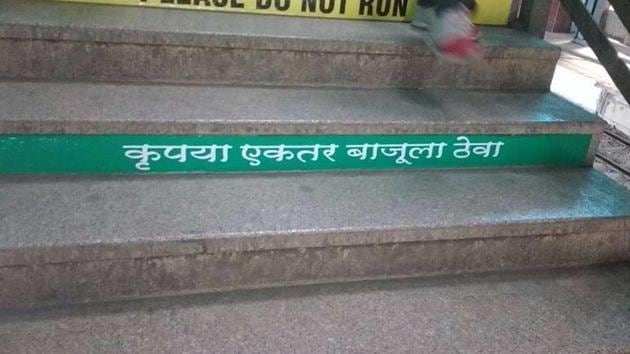 Stickers on the FOB steps at Santacruz and Goregaon railway stations, which read: 'Krupaya lahan chendu gheu naka'. In Marathi, this means: 'Please do not use small ball'. What the WR intended to convey: 'Please do not use short cuts'.
Other messages, which were put up after the Elphinstone Road station stampede, that have gone awry in Marathi include: 'Krupaya ektar bajula theva', which literally means, 'Please keep aside either', when the intended advice is: 'Please walk on one side'; and 'Krupaya ek pauool vagalu naka', which means, 'Please don't drop a step' instead of 'Please don't miss a step'. And then there are typos such as, 'Krupaya handroil dharun theva', which commuters have to intepret as, 'Please hold the hand rail'.
Sources in Western Railways said Google Translate was used to convert English messages into Marathi. Photographs of these stickers are now doing the rounds on social media, much to the embarrassment of railway authorities, who have apologised for them and said they would will correct them immediately.
Responding to a tweet, Mukul Jain, divisional railway manager, said this has happened inadvertently. "Concerned officials have been advised to strictly ensure the translations and grammar are correct. We will ensure that proper language is used," he said.