Fire charred 18,128 spots in Maharashtra forests in ten years, reveals ISRO study
Updated on May 02, 2017 08:44 AM IST
Researchers stress need to include local residents to control fires in protected areas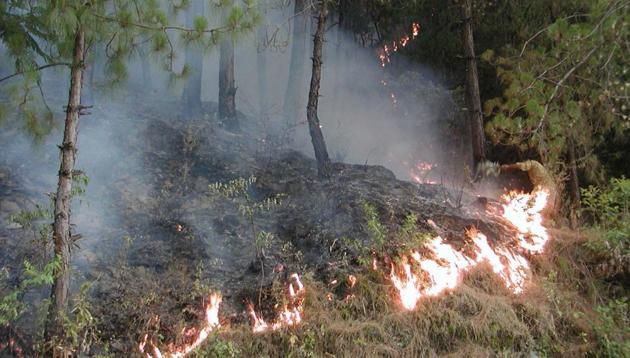 Satellite data have revealed that almost half of India's protected areas reported incidents of fire between 2006 and 2015. Maharashtra stands fourth when it comes to the number of locations that reported fires in this time — 18,128.
Between 2006 and 2015, fires occurred in 281 of the 614 protected areas in India, largely in March and April when conditions are dry. There were 2,28,667 forest fires between 2006 and 2015.
The forest fires also contributed to one-sixth of the carbon emissions in India.
An analysis by the Indian Space Research Organisation (ISRO) and the Indian Institute of Space Sciences, Kerala, based on satellite images has found that forest fires from protected areas emitted 16 million metric tonnes of carbon dioxide in 2014 —17.1% of the total emission.
National parks, wildlife sanctuaries, conservation reserves and community reserves in the country are protected areas. They comprise 1,10,596.89 sq km (11.46%) of the total natural vegetation – forests, scrubs and grasslands. "Carbon emissions released from forest fires increase global warming and so, it is an environmental concern. Strict fire management policies have to be considered for protected areas to mitigate climate change and biodiversity conservation," said the study led by C Sudhakar Reddy, a scientist from the forest and ecology division, National Remote Sensing Centre, ISRO, Hyderabad.
Of India's forests, 55% is prone to recurrent fires. Scientists have recommended fire maps using medium and high-resolution satellite data, which could be used to analyse the extent of burnt forest area in the past 10 years, and also predict forest ecosystems that are vulnerable to fires.
Ecologist Madhav Gadgil, however, said that "bureaucratic fire management" would not work and locals who live in these areas must be given their rights under the Forest Rights Act. This will motivate them to protect the forest. "The land belongs to them. But these locals have been denied their rights for the past 10 years . If their rights are protected, they will help in controlling fires, among other things," said Gadgil.
Of the total burnt area (9881.10 sqkm) in protected areas, 90% was reported from forests, which releasing an estimated 13 million metric tonnes of carbon dioxide, followed by scrubs (5.3%) and grasslands (4.2%). Nagarjunasagar–Srisailam Tiger Reserve in Andhra Pradesh gave out most of the carbon dioxide — at two million metric tonnes, followed by Gundla Brahmeswaram Wildlife Sanctuary, Andhra Pradesh, Kaimur Wildlife Sanctuary, Bihar and Indravati Tiger Reserve, Chattisgarh.
"Fire prevention policies must be considered with great care, including the use of prescribed fire to maintain a fire regime in the ecosystems. To develop practical policies in protected areas, it is essential to integrate information with human population and socio-economics," said the study that was carried out as part of ISRO's National Carbon Project.
Forest fires are a result of both natural and man made factors. They can occur when temperatures are high and humidity is low. For instance, there was a rise in the number of places that witnessed forests fires – 32,828 in 2009 and 28,466 in 2012 – because of above normal temperature these two years the warmest since 1901. Forests are set on fire for shifting cultivation, largely practised in the north-eastern parts of the country. Mizoram alone had 30,384 forest fires, also the highest in India, between 2006 and 2015. Other reasons include flush growth of grass for grazing and tendu leaves, burning cigarettes or bidis, and tree felling.
Professor Raman Sukumar, Centre for Ecological Sciences, Indian Institute of Science, Bengaluru, said India needs a programme for management of forest fires. "We need a system to prevent fires. For this, the forest department must burn small patches of forests to minimise fuel load (fallen dry leaves) early in the season. This will help control more intense fires later. Carbon emissions from forest fires is not as bad as it is made out to be. When it rains, carbon gets back to the vegetation. Our studies at the Mudumalai Tiger Reserve show that despite fires, carbon helps make good forests."
The highest emissions were caused by dry and moist deciduous forests. Dense forests emitted more carbon dioxide than open forests. This was because of litter and dry grass, that catch fire easily.
Personalise your news feed. Follow trending topics