From Garba to Ganesha: Mumbai students bring festive cheer to campus
Updated on Oct 05, 2017 04:23 PM IST
Mumbai colleges are bringing all students together to celebrate different festivals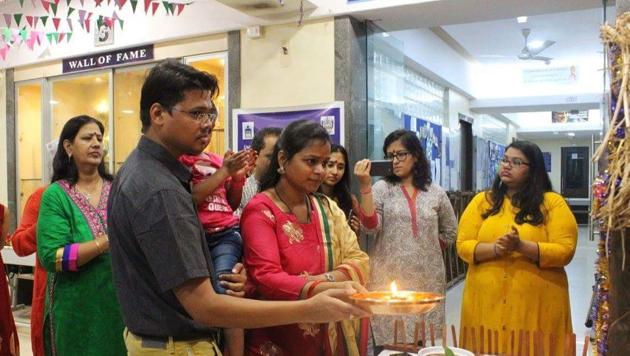 Festivals are no more just a reason for a holiday in city colleges. Of late, students as well as college management are taking extra effort to include everyone in celebrating various festivals on the college premises. Be it bringing in a Ganesha idol to the campus for five days of Ganesh Chaturti, or celebrating Garba and dandiyaraas for the students and staff of the institute, holding on to the culture and traditions of the society is taken very seriously by many city colleges.
In August this year, Vile Parle's UPG College brought an eco-friendly Ganesha to the college campus during Ganeshotsav. "We have many outstation students who have no idea what the festival is all about, so this helps in bringing all the staff and students together. Plus, the eco-friendly Ganesha also sends the right message," said Anju Kapoor, principal of the college. This was the second year that the college filed the ritual and on the last day of visarajan, the idol was immersed in a bucket within the college premises itself. "It's great to see students and staff from different communities come together and celebrate a festival," she added.
R A Podar College in Matunga for years has been celebrating Navratri with great gusto. While Garba and dandiyaraas is just one part of the celebrations, students and staff also celebrate the age-old tradition of 'bhondla' during the nine days of Navratri. "Bhondla is a very traditional Maharashtian ritual where women get together and sing songs and dance around a rangoli on campus. Most students are not even aware of such traditions so we ensure everyone participates," said Sobhana Vasudevan, principal. She added that over the years, students as well as staff have shown more and more interest in such events, as it brings everyone together – faculty, non-teaching staff as well as students. "Simple joys of playing fugdi with students and teachers is what makes this event a hit amidst all," she added.
While maintaining tradition is one part of this exercise, colleges feel such events help break barriers amidst the "disconnected" generation. "People have forgotten that the entire idea behind celebrating festivals is to have better communication between the community and with the growing culture of nuclear families, students are very disconnected from their roots. Our staff ensures that all festivals are celebrated with equal enthusiasm at the college and students also appreciate the effort," said Ashok Wadia, principal. The colleges also hosts events during festivals where students are encouraged to learn an Indian language other than their mother tongue.
For the growing community of students who are not from the city, such events help in getting over homesickness. "Navratri is a big deal for us in Gujarat and ever since I moved to Mumbai for studies, I haven't had a chance to go back home during this festival because we usually have exams in the period. Thankfully our college hosts a garba session for all and that way, I get to introduce my friends from Mumbai to our tradition from back home," said Akriti Parikh, a second-year student from R A Podar.