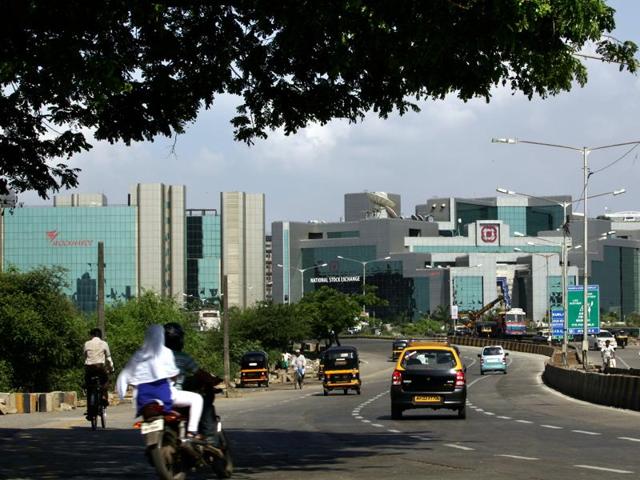 HT Unclog Mumbai: Bursting the biz hub bubble
Mumbai's business districts have swanky buildings with world-class facilities. But the roads that lead to them are a big mess
UPDATED ON NOV 24, 2016 12:35 PM IST
It's a tale of two cities.
The first one is planned, with wide roads, footpaths, manicured lawns and public Wi-Fi; the second one is a giant mess with crowded traffic junctions, narrow lanes and no footpaths.
Every day, Shweta Masani, hunts for ways to reach her office in that first city on time.
"The journey to my office in Bandra Kurla Complex should ideally take 40 minutes, but I take nearly two hours because auto drivers refuse to ply and there are constant traffic snarls along the way. My day starts on the worst note," says Masani, a consultant at a private firm.
For thousands of office-goers like Masani, it's a daily battle to reach their workplaces in business districts such as BKC, Vikhroli-Powai and Lower Parel.
Getting in and out
It's a basic problem, say experts. While each of Mumbai's business districts are beautifully planned inside, little thought has been given to plan the areas around them and the roads that lead to them.
Take BKC for instance. It may be one of the best planned business districts in the city, but it is cut off from both suburban lines; the approach roads from Bandra, Sion and Kurla are always congested; and the Western Express Highway right outside bears the brunt of the rush of cars and bikes in the morning and evening peak hours.
It is a similar story at Powai, a planned residential area that has over the past decade grown as a hub for IT and BPO offices. Powai, like BKC, is also isolated. Commuters report taking at least an hour to reach Andheri station, the nearest on the western line, and 30 minutes to the Vikhroli station — and that too, on a good day with no jams.
The picture is far worse for those who use their own vehicles. Rajesh Divekar used to drive to work at Lower Parel from Bandra, but stopped because of high parking charges and severe jams.
"These centrally planned business districts are supposed to be built keeping in mind the need of commuters and pedestrians. It is exactly the opposite. These areas have more traffic snarls than any other part of the city, there are no footpaths, or space to park in these swanky office buildings."
Devil in the detail
Why are these well-planned belts falling prey to the same old problems of traffic snarls and overcrowding?
Experts blame it on fundamentally poor planning. This failure is evident in the centrally-located business districts of Lower Parel and Elphinstone Road. After mill lands in these areas were allowed to be sold off — without making adequate provisions for open spaces and affordable housing —swanky building complexes quickly started coming up. Not only were these structures too large for the narrow roads that lead to them, they also resulted in more people driving in and out.
The old Elphinstone Road bridge used to cater to just a few hundred mill workers. Now, the same bridge has to accommodate more than two lakh office-goers who land at the Elphinstone Road and Parel stations every day. With the traffic snarls getting out of hand, the Brihanmumbai Municipal Corporation has said it will see if the century-old bridge can be broadened, a move that comes two decades after the area's transition began.
Central Mumbai's Lower Parel has six railway stations, but it is still poorly connected. Consider this: of the six stations, fast trains halt only at the alreadycrowded Dadar station, where getting on and off the train is a struggle. Outside this station, poor road networks make traffic flow inefficient.
Connecting hubs better
The government is planning several centres such as BKC for the city. Called Central Business Districts (CBD), these are planned spaces that will hold commercial and office buildings and cultural centres. Experts, however, insist that planning a CBD is not only about allowing skyscrapers to come up. They must either be built close to a transport hub, or such a hub should be developed as the CBD is being built. "CBDs are not just about working spaces juxtaposed together. Authorities need to think of affordable housing in and around these districts. The working spaces should come up in livable neighbourhoods that are easy to access. It's the complete opposite of what we see at BKC, Powai or Lower Parel," said Ashok Datar, transport expert.
Experts suggest more walkways to connect to the nearest stations, AC and non-AC buses that run on shorter routes, good taxi and autorickshaw services and more auto-taxi stands, and an underground transport system to connect the area to main transport lines.
Authorities love the idea of a CBD. The Mumbai Metropolitan Authority (MMRDA) plans to develop one in Kharbao near Bhiwandi and two other projects have been proposed at Kalyan and Panvel. But if these CBDs also fail office-goers when it comes to basic facilities, their novelty may fade.
"Many of my employees want to work from home because they dread the traffic they have to face to just get to the office. I have also noticed that they perform better, are on time and less hassled when they work from home," said Navin Kumar, a project manager and IT professional at a firm in BKC.
Business hubs are not islands; only good transport systems can help break the bubble around them.
Close