HT Unclog Mumbai: Next station, a brand new train network
Hindustan Times |
Kailash Korde and Prajakta Kunal Rane
Nov 16, 2016 05:38 PM IST
Mumbai's 'local' was a transport revolution — until demand outgrew supply
It's a struggle to get on, it's a struggle to get off; it's a daily fight for space. One of the world's busiest transport systems, which ferries 75 lakh people a day, is barely chugging along.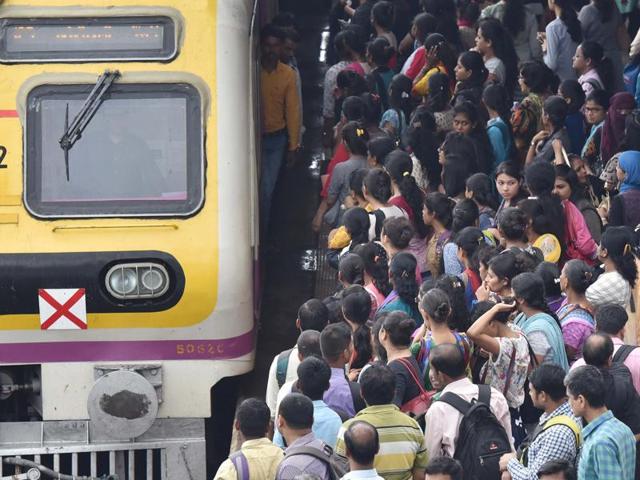 Mumbai's famed suburban trains bring office-goers, workers, vendors and students from their homes in Dahanu, Kasara, Karjat, Khopoli and Panvel to their workplaces in the city. It is one of the world's cheapest modes of public transport, charging less than a rupee per kilometre for a second-class ticket. For Mumbai, the 'local train' was a transport revolution — until demand outgrew supply. Today, 15 passengers share a square metre inside a coach in rush hour today. It's an ageing network, in desperate need of a major overhaul.
Where's the upgrade?
The railways and the governments in the state and Centre have undertaken the Mumbai Urban Transport Project (MUTP), a multi-phase plan to build new lines, expand the existing ones, replace aging trains and rebuild busy stations. Some are ready, other under-construction. The problem, said experts, is not the lack of a plan, but the delay in implementing them. For instance, the railways has been working on two elevated corridors — the Rs9,500-crore CST-Panvel corridor; and the Rs16,368-crore Bandra-Virar corridor to run AC trains. The first was announced in 2012-13, to be built in six years; the second was proposed eight years ago. Neither has taken off. There are other ways to upgrade the sector. Connecting lines at Bandra-Kurla, Dahisar-Thane and Vasai-Diva; double-decker trains to create more space; and a single, independent body solely focussed on improving the city's network. But these are major moves, prone to delays.
Meanwhile, quick fixes...
To make commuting easier, experts and activists suggest quicker measures — more 15-coach trains, tweaking timetables, staggered office timings and more services from the new hubs of Andheri, Borivli, Ghatkopar, Mahalaxmi, Bandra and Kurla — to bring down the crowds.
"We need better timetables. This doesn't need much investment, but will benefit many passengers. The railways only needs to review the existing timetables," said Gaurang Damani, member of a Central Railway consultative committee. Transport expert AV Shenoy suggested a communication system that will allow railways to reduce the gap, of three to five minutes, between trains. "The communication based train control (CBTC) is a low-cost traffic management solution the railways has. It will improve capacity on existing tracks and allow the railways to run more trains."
Making trains popular
Experts said just a few improvements and better use of technology could get many more Mumbaiites to leave their vehicles at home. "AC trains on the suburban sector will be a public transport revolution ," said transport expert Ashok Datar. "The railways can start by providing AC coaches on existing trains or operate one AC train every 15 minutes. Introducing AC trains should be prioritised as they will offer a comfortable mode of travel for so many more Mumbaiites." Another big turn-off, according to experts, is the long queues commuters are forced to stand in for a ticket. Mobile ticketing and a single-ticketing system are options that have been mulled about for years, but have failed to take off.
"The mobile ticketing system failed because of poor technology. The railways should engage the IT sector to upgrade services. If booking a flight ticket can be so easy, why can't railways improve?" Datar said. A major focus area should be stations' entry and exit points, experts said. Illegal parking and hawkers make getting into a station a task.
The right track
"Even for short trips, commuters take trains as it's faster," said Sulakshana Mahajan, an urban planner. Mahajan said if buses were improved, trains will get emptier. Experts also suggest a Thane-Kalyan road parallel to the rail line to reduce travel time to Thane. "Commuters will use that instead," said Aniket Ghamandi, from Mumbai Suburban Passenger's Federation.
The suburban trains are still the fastest way to get around Mumbai. A few tweaks, and it could well become one of the best transport systems in the world, experts said.