In three years, pesticides killed 183 farmers in Maharashtra
Hindustan Times |
, Mumbai
Sadaguru Pandit
Mar 22, 2018 11:33 AM IST
The deaths were reported between financial years 2013-14 and 2017-18
In past three years, 442 farmers and farm workers died after inhaling poisonous pesticides in India, a recent report by union health ministry revealed. Over 94% of the deaths were from Punjab (233) and Maharashtra (183).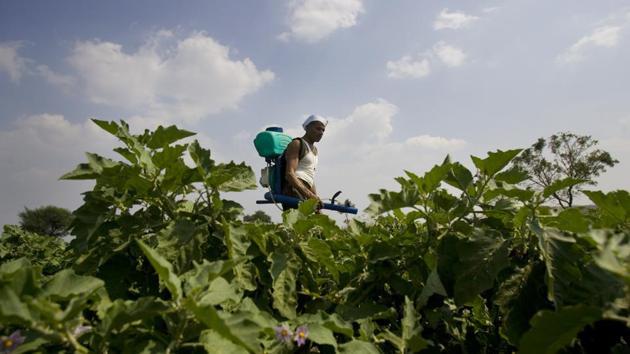 Rajasthan (20), Karnataka (3), Tamil Nadu (3) were other states that figured on the list. However, agricultural experts, on the basis of individual fact finding studies, said that the statistics could be under-reported and don't reveal the exact number of deaths and hospital emergencies caused by pesticide handling. The deaths were reported between financial years 2013-14 and 2017-18.
Maharashtra continues the sale of monocrotophos pesticide, which was responsible for deaths of over 50 farmers and farm workers in Maharashtra in 2017. The pesticide was banned in October for 60 days in five districts — Akola, Washim, Amravati, Buldhana and Yavatmal, as per the suggestion of a Special Investigation Team (SIT), formed to investigate the deaths. HT had reported the SIT findings.
The SIT found that monocrotophos—a 1B category, extremely poisonous drug according to World Health Organization (WHO) was being used with mixture of pesticide, Plant Growth Regulator and fertilisers, which aggravated the toxicity of the mixture.
"Punjab government recently refused to renew licenses for sale of over 20 pesticides, including monocrotophos knowing its health hazards to farm hands, farmers and environment. But Maharashtra continued the sale monocrotophos after 60 days of ban citing a clause in insecticide rule that the states have no right to ban the sale of pesticides but can only control the licensing," said Kavitha Kuruganti, member of Alliance for Sustainable & Holistic Agriculture, that conducted state-wide fact finding surveys.
Farm activist Kishor Tiwari said that Maharashtra government seemed to be resuming the sale of hazardous pesticides. "The state government is aware that even internationally, there is no antidote available for monocrotophos poisoning, even then they didn't take any steps to prevent its manufacture or sale. Stringent action should've been taken to at least stop the sale in areas from where deaths were reported,' said Tiwari.
Read more: Ignorance, pesticides form a fatal alliance in Maharashtra's Vidarbha
Kuruganti claimed that the state and union ministries of agriculture have intentionally or unintentionally avoided multiple studies which refute the need of synthetic and hazardous pesticides for farming in India.
"Secondly there is no data collection of pesticide poisoning incidences, through oral ingestion or accidental inhalation which can offer insight on the kind of insecticides to be banned in the country. Moreover, the new insecticide act, to be tabled in monsoon session in the parliament, doesn't influence the policies to prevent these hazardous pesticides being sold openly in market and advertised aggressively," Kuruganti added.
Bijay Kumar, IAS and principal secretary of agriculture department, said that since the sale of pesticides has resumed in Maharashtra, they are soon to write to union government to ban five pesticides including Monocrotophos. "Since as a state, we can extend the ban only for 60 days, we will request to ban the pesticide during months they are used. Moreover, we are seeking legal remedies to counter the pesticide manufacturers who immediately seek relief from high court as soon as the ban is exercised to resume sale," said Kumar