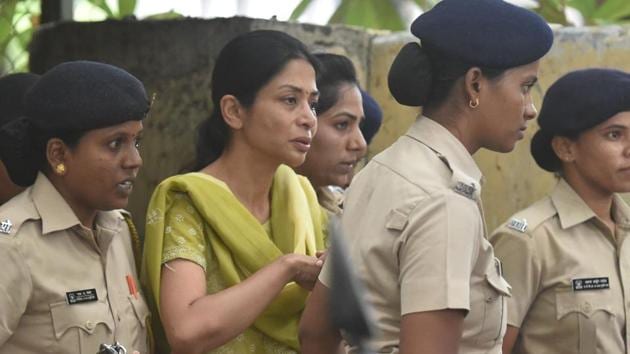 Indrani Mukerjea admitted to JJ Hospital in Mumbai, condition stable
Indrani Mukerjea is currently lodged in Mumbai's Byculla jail on the charges of murder of her daughter Sheena.
Indo-Asian News Service, Mumbai | By HT corresponde
UPDATED ON APR 08, 2018 12:18 AM IST
Indrani Mukerjea, 46, who is accused of murdering her daughter Sheena Bora, was rushed to J J hospital from jail on Friday night.
Doctors from JJ Hospital said that Mukerjea, who was brought to the hospital in a state of drowsiness, did not respond to any voice commands.
"Her pupils were constricted, which indicated the possibility of drug overdose. We immediately performed a gastric lavage, a procedure to wash out toxic substance from the stomach. The blood and urine samples were sent to the laboratory to ascertain if it is indeed a case of drug overdose," said a doctor from JJ Hospital.
CT and MRI scans of Mukerjea revealed ischemic changes in the brain, which is caused by the restriction of blood supply to tissues, resulting in a shortage of oxygen that is needed to keep tissue alive.
"However, after medication, she has started responding to voice commands. Her blood pressure and pulse are now normal. The blood report is also normal, so chances of drug overdose are less. However, we will know this for sure only after we receive the results of the urine and gastric liquid report," doctors added.
Indrani had started feeling uneasy after dinner, said sources. Swati Sathe, deputy inspector general of prisons, told HT, "The staff saw that she was experiencing uneasiness in breathing. They informed the superintendent, who then contacted me. I instructed them to rush her to J J hospital."
Gunjan Mangla, Indrani's lawyer informed the court about the development.
This is not the first such incident when Indrani was hospitalised . In 2015, Indrani had been hospitalized for a week after reportedly overdosing on anti-epileptic drugs. At the time, she received treatment at the institute's critical care unit (CCU). The jail authorities had later claimed that there was no overdose or consumption of poison, and that she had fallen unconscious as she was upset over her mother's death. Her condition may have worsened as she had briefly stopped taking medicines and was suffering from weakness, authorities had claimed.
Close