Monsoon comeback in Mumbai: Downpour may drown Sunday plans
The weather bureau has forecast intermittent rain in the city and the suburbs, and isolated heavy showers in the suburbs over the next 24 hours.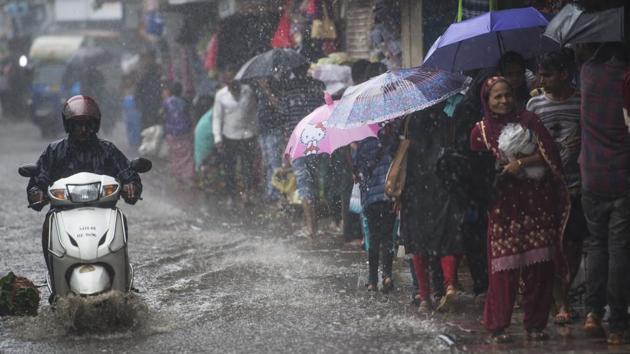 Updated on Jun 24, 2018 09:24 AM IST
After almost a week of no rain, on Saturday, Mumbai woke up to grey skies and rain that continued intermittently throughout the day.
Between 8.30am and 8.30pm on Saturday, the weather station at Santacruz (representing the suburbs) recorded 19.1mm of rainfall, while Colaba received 127mm. Humidity levels touched 93% in Colaba and 92% in Santacruz. Maximum temperatures dipped 3.8 degrees Celsius below normal to 27.5 degrees Celsius at Santacruz, and 3.3 degrees below normal to 28 degrees Celsius at Colaba.
Minimum temperatures saw a dip with suburbs recording 24.2 degrees Celsius (1.9 degree Celsius below normal) and south Mumbai recording 25 degrees Celsius (1 degree Celsius below normal).KS Hosalikar, deputy director general (western region) of India Meteorological Department (IMD), attributed the rains to the revival of the southwest monsoon over the Konkan stretch and the off shore trough at mean sea level from South Gujarat Coast to Kerala coast. "There is a cyclonic circulation over south Konkan and another cyclonic circulation over north Konkan (includes Mumbai) and adjoining south Gujarat. In addition, East-West wind shear zone runs roughly along latitude 20.0°N over India region," he said. As a result of these conditions, the IMD has forecast intermittent rain in Mumbai and the suburbs over the next 24 hours. There is a possibility of isolated heavy showers in the suburbs. Isolated heavy to very heavy rain has also been forecast for Konkan and Goa.
Isolated heavy rainfall is likely over the Gujarat region, central Maharashtra, Marathwada, coastal Karnataka and Kerala for the next 24 hours.
According to the weather department's classification, 15.6mm to 64.4mm of rain is classified as "moderate"; 64.5mm to 115.5mm is "heavy"; 115.6mm to 204.4mm is "very heavy" and more than 204.5mm is "extreme".
Close Story
Personalise your news feed. Follow trending topics