Joy of giving back: Mumbai housing society creates 10,000 sqft garden
Dec 25, 2017 11:48 AM IST
Christmas celebrations began on an unconventional note at Tirupati Tower in Thakur Complex, Kandivli.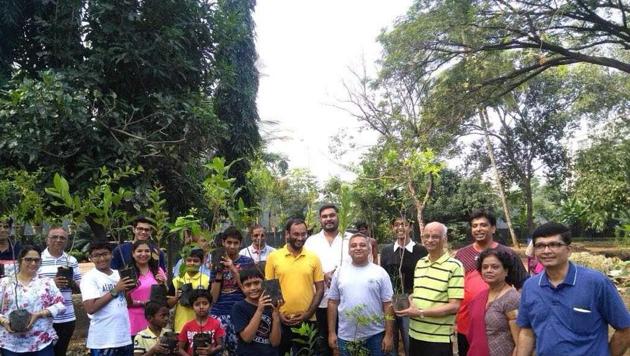 The residents have created a 10,000 sqft garden, with fruit and flowering plants that will attract birds and butterflies.
From children to senior citizens, 80 residents got together on Sunday to recreate a green area that was lost when a drainage channel flowing along the building compound was widened. The residents planted five-foot-tall saplings of mango, pomegranate, tamarind, and neem, to ensure they have a higher survival rate. They plan to plant another 300 native trees in the compound.
"Our efforts are aimed at protecting the biodiversity of this area, which was home to countless birds, butterflies, and squirrels. Their habitat was lost after trees were destroyed but now they have automatically started returning, and the area will be restored completely within a few months," said Pradeep Keshwani, managing committee, Tirupati Towers and president, NGO Citizens' Right Protection Committee.
Located along the banks of the Poisar River which has now become a sewage channel, the garden has lost close to 60 full-grown trees since 2014 due to desilting work and widening of channels by the municipal corporation to reduce flooding in the area. "The idea was to bring back the lost beauty of this garden and have a protected green space for our future generations," said Venkatraman Chandramouli, 70, resident and former executive director, Air India, who spearheaded the programme. "Planting trees along the banks of this polluted river not only reduces the stench, but also helps reduce our carbon footprint as a housing society."
For three months, Chandramouli reached out to various citizen groups and the Brihanmumbai Municipal Corporation (BMC) but failed to find saplings of small tree species. "Environmentalist Subhajit Mukherjee surveyed the area and told us that the garden can incorporate over 200 trees," he said. "With Christmas around the corner, we treated the plantation as a symbolic celebration to give something back to nature." The garden currently has 120 trees. It also has a 1,500 sqft area allotted for a kitchen garden, where vegetables such as brinjal, radish, ladyfinger, chilies, tomatoes, different types of spinach, and more are being grown since 2015. According to the state forest minister, the 'socio-economic' value of a tree is ₹23.72 lakh a year, taking into account, the capacity of trees to absorb greenhouse gas responsible for climate change. With increasing construction work, the green cover in the city has taken a hit with trees being chopped off for projects.
Citizens outside of Tirupati Tower also joined in solidarity. "Various citizens groups are coming together in this Mumbai suburb to uphold the importance of protecting the environment by adopting solar energy, conducting plantation drives, protecting those plantations, rejuvenating rivers, and making children aware about the environment," said Akash Uday Kumar, president, Thakur Complex Citizens Welfare Association. "Our aim is to plant 1,000 trees within the Thakur complex, and bring back open green spaces for our children."