Labour unions protest in Mumbai, ask Centre to revise minimum wages
Hindustan Times |
Sagar Pillai
May 02, 2018 12:41 AM IST
The unions also demanded pension for workers and doing away with the contract system
More than 5,000 people associated with 34 trade unions, including one of them affiliated to the Shiv Sena, gathered at Azad Maidan on International Labour Day to slam the BJP government for 'pursuing anti-labour policies.'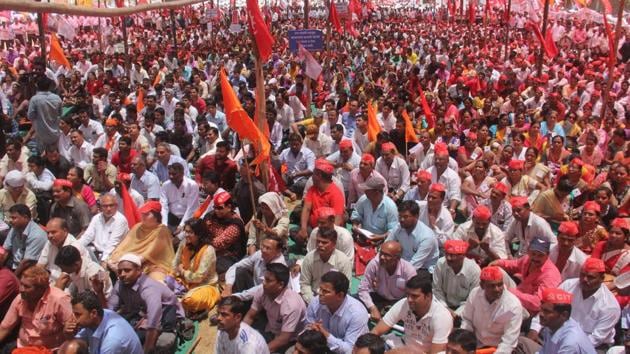 The unions alleged that the National Democratic Alliance (NDA) government is pursuing a policy that is against the welfare of the workers. The trade unions threatened the BJP that the party would face their anger in the 2019 elections if the government fails to meet their demands. The unions have demanded revision of minimum wages, pension for workers and doing away with the contract system.
Sena leaders Suryakant Mahadik and Mangesh Kudalkar extended their support to the protest. The Sena-affiliated Bharatiya Kamgar Sena was also present at the protest. Kudalkar said, "We strongly oppose the implementation of privatisation and contract policies that will largely affect the labourers' livelihood." The Rashtriya Swayamsevak Sangh-backed Bhartiya Mazdoor Sangh refused to participate in the anti-NDA protest.
Vishwas Utagi, convenor of the Trade Union Joint Action Committee (TUJAC), said, "The amendment of the Contract Labour (Regulation and Abolition) Act in 2017 was conducted in an undemocratic manner. The government is trying to oppress the labour class till an extent where it surrenders to the authority's inhumane policies. We want the minimum wages given to the workers to be at least Rs18,000 and Rs3,000 pension for workers, labourers and farmers."
Under the banner of TUJAC there are 34 trade unions that include Centre of Indian Trade Unions (CITU), All India Trade Union Congress (AITUC), the Indian National Trade Union Congress (INTUC), the United Trade Union Congress (UTUC), Rashtriya Mill Mazdoor Sangh (RMMS) and the Hind Mazdoor Sabha (HMS).
Milind Ranade, general secretary, BMC's workers union, said, "The sanitation workers in the BMC are living in the worst condition. Despite the Supreme Court's order, the BMC has failed to even recognise them as workers and over 1,400 of the 2,700 workers have still not been paid their minimum wages since the past several months." The unions had expected around 50, 000 people to participate in the protest, but around 5,000 of them showed up on Tuesday.