Mumbai leopard that attacked 4 kids, killed one still at large, forest officials set up third trap cage
Mumbai's national park has 35 leopards, which sometimes enter Aarey Colony in search of prey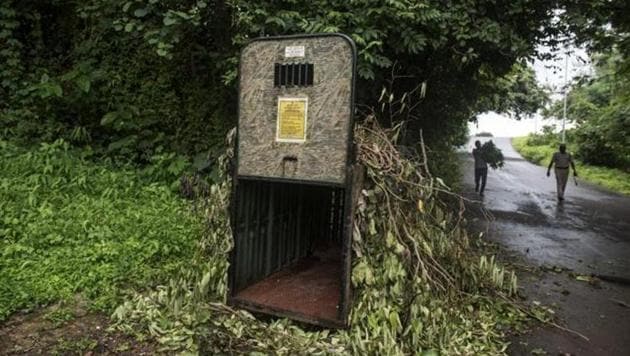 Updated on Aug 18, 2017 01:31 PM IST
After failing to trap a leopard suspected to have attacked four children and killed one, forest guards from Mumbai's Sanjay Gandhi National Park (SGNP) have set up a third cage to nab the animal.
Forest guards said they believe the leopard is still at Aarey Milk Colony, south of the national park, as there have been sightings near a guest house. Two other leopards – a mother and her cub – are also suspected to be in the area, complicating matters. The forest department has stopped all outdoor shoots at the nearby Film City in Goregaon until the leopard is caught.
"Based on the leopard's pattern of movement, it was necessary to install another cage near the VIP guest house at Aarey," said Jitendra Ramgaonkar, deputy conservator of forest, Thane. "Forest officials and the guest house staff have also spotted another female leopard and her cub. We are trying to ensure that we do not accidentally trap the wrong animal," he added.
SGNP has 35 leopards, which sometimes enter Aarey in search of prey. Forest officials said there could be seven leopards in the area bordering the park near Film City and Aarey Colony which has eight tribal villages, dairies and slums.
"We have 15 forest officers stationed out near this trap cage every night to conduct intensive, selective and close monitoring of all animals in the area," said Ramgaokar.
Forest officials said it is hard to convince villagers to follow safety guidelines. "They still roam around in the evening and at night with their children. They dispose of garbage haphazardly, which attracts stray dogs, on which leopards prey," he said. He added that the team was taking measures to ensure that another attack would not occur.
"We will reiterate how important these safety guidelines are. Plans to install street lights in this area are underway," said Nathu Rathod, chief executive officer, Aarey Colony.
Who has the leopard attacked?
July 28: 13-year-old Aarey Milk Colony resident Aniket Dileep Page was attacked near the pump house around 3.30pm.
July 22: Two-year-old Vihaan Nilesh Garuda, son of an SGNP staff member, was attacked and killed near Maroshipada, a hamlet near Film City.
May 29: A four-year-old boy, who lived at Royal Palms, Goregaon, was attacked
March 17: A three-year-old boy was attacked near Khadakpada, a tribal hamlet. The boy escaped with injuries on his chest and throat after residents scared the leopard away.
May 21: A three-year-old boy was saved by his mother, who snatched him away from the claws of a leopard that had pounced on him in Chafyachapada, Aarey. The boy suffered minor injuries.
Close Story