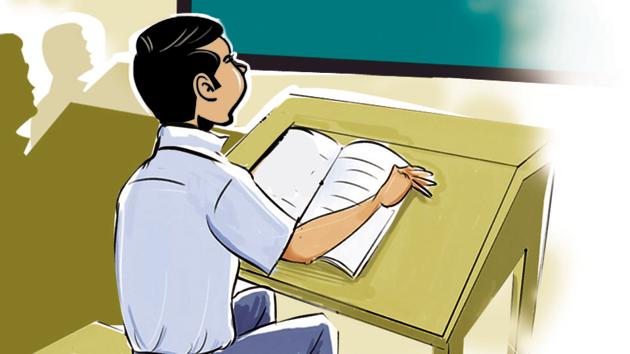 Maharashtra to get open schools to help reduce drop-out rate
Mumbai city news: To arrest the number of drop-outs and increase literacy, the state's school education department on Friday passed a resolution to start the Maharashtra Institute of Open Schooling (MIOS)
PUBLISHED ON JUL 15, 2017 12:35 AM IST
Differently abled students, senior citizens and those pursuing folk arts and sports will be able to appear for class 5, 8, 10 and 12 equivalent exams even if they don't go to a regular school.
To arrest the number of drop-outs and increase literacy, the state's school education department on Friday passed a resolution to start the Maharashtra Institute of Open Schooling (MIOS), which will have an easier syllabus, flexible exams, and skill-based subjects for those who cannot attend regular school.
The institute will work on the lines of National Institute of Open Schooling (NIOS), which has 3,000 centres run by the Centre across India. "NIOS curriculum is national and does not cater to the needs of Maharashtra's students," said Suvarna Kharat, deputy secretary of education.
MIOS will be part of the state board, that conducts class 5, 8, 10 and 12 equivalent exams, held in March-April and October-November with the regular board exams. It will follow a separate assessment style.
One of its major features is that students do not have to appear for the minimum five subjects required to pass the exam at once. They can spread it over nine exams in five years, which means they can study for one or two subjects at a time. This is good for academically slow learners.
Another advantage is that language subjects will carry 50 marks for written and 50 for practical exams. An 80-20 pattern will be followed in science. SSC board has discontinued this in Class 9 this year.
As a special provision, students who want to pursue a career in sports and folk arts will be allowed to take the class 10 and 12 exam if they have formal schooling till class 9 or 10. "These students don't get time to attend regular schools, so they will benefit from the flexibility of the open schooling system," said Kharat.
The department has found that nearly five lakh students drop out of school between classes 1 and 10 in the state. Government schemes, including the provision to write Secondary School Certificate (SSC) exams as private candidates directly after class 9, have not been successful.
"One of the major reasons why the pass rate of private students is poor is that they have to study the same thing and write exams in the same pattern," said Nand Kumar, principal secretary of the department, who issued the resolution. He added that open schooling would address the needs of such students better.
Pros of open schooling
Will develop best practices for informal education
Reduce the rate of drop-outs and failures
Will benefit senior citizens, women, workers, and others to avail education
Imparting vocational education that will help in different walks of life
Special concessions will be provided to suit the needs of differently-abled students
Make education facilities available at a local level
Cons of taking exams as private candidates:
Syllabus and textbooks are same as the regular students
Question paper and assessment is the same
It doesn't test students on their vocational skills, knowledge
Not many provisions for students with special needs Open schooling
Who can qualify?
For Class 5 equivalent:
Minimum age: 10 years
Subjects: Three languages, environmental studies, and math
Documents: Birth certificate, records of past exams both formal and informal. In case of informal, an undertaking from parents will be sufficient.
Class 8 equivalent
Minimum age: 13 years
Subjects: Three languages, social studies, science, math, skill-development subjects,
Differently-abled students can opt for any five subjects (but minimum two languages will be compulsory)
Class 10 exam
Minimum age: 15 years
Subjects: Any five subjects including two compulsory languages: Science and technology, economics, social studies, commerce, agricultural science and technology, skill-development subjects, or one of the pre-vocational subjects such as bakery, tailoring, screen painting, Indian music, among others:
Must have passed class 5 at least
Must be a resident of Maharashtra for minimum two years
Affidavit that applicant is not enrolled in any school
Transfer of credit: Those who want to opt for open schooling after failing SSC exams will be able to get their credits transferred
Class 12 exam
Minimum age: 17 years
Subjects will depend on chosen stream-arts, science, commerce.
Differently-abled students- One compulsory language + four subjects
Must have passed class 10 exam from any recognized education board
Stayed in Maharashtra for minimum two years
SSC board students will be able to avail transfer of credit
How will the exams be held:
Registrations will open six months before exams: March-April & October-November
Registrations will be valid for five years
Evaluation:
Primary: Each paper will be divided into 50 marks written exam and 50 marks orals or practicals
Upper primary: 100 marks divided into 60 written and 40 practicals or orals
Secondary: Pre-vocational: 50 written + 50 practical
Languages: 50 written+ 50 practical, oral, projects
Science: 80 written + 20 practical
You do not have to appear for all the subjects in one year. It can be spread over five years and nine exams
Internal assessment will be compulsory it will be on homework completion
Class 12:
Languages and science: 80 written + 20 practicals, orals
Exam will be offered in Marathi, English, Urdu, and Hindi
Close