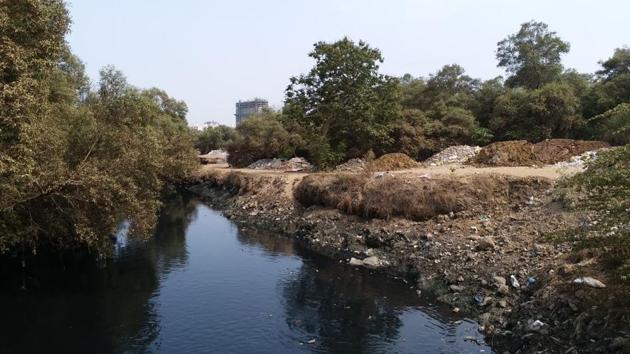 Mangroves destroyed in Mumbai through debris dumping: Offenders not caught yet
Illegal encroachments cleared, but no violators arrested for destroying mangroves in Mahim creek and Dahisar
UPDATED ON MAY 24, 2018 11:30 AM IST
Two cases of alleged mangrove destruction – one at Mahim creek through debris dumping and the other at Dahisar through the construction of bunds – were reported by city-based activists on Tuesday and Wednesday.
HT has been consistently reporting the cases of mangrove and wetland destruction in the Mumbai Metropolitan Region (MMR). However, so far, apart from removing illegal encroachments, the state has not been able to arrest or convict violators in any case.
In the first case, NGO Watchdog Foundation filed a complaint with the state government and union environment ministry on Tuesday about hundred truckloads of debris (see image) at the Mahim creek area, marked as a bird sanctuary under the Brihanmumbai Municipal Corporation (BMC) development plan 1991, near Babasaheb Ambedkar Nagar.
"Around 200 truckloads of debris have been dumped over half a hectare patch in the reserved mangrove forest at Mahim," said Godfrey Pimenta, trustee, Watchdog Foundation.
"We also noticed a kutchha road constructed in the mangrove for movement of trucks. This is a classic case of governmental apathy towards protection of mangroves, which are under severe threat," Pimenta added.
In the second case, environmentalists from New Link Road Residents' Forum (NLRRF) filed a complaint with the district administration on Wednesday about construction of bunds to block sea water ingress to mangroves and wetlands near Prithvi Palace Cooperative Housing Society along the New Link Road, Dahisar (West).
"Some illegal structures have been constructed along the wetlands, which is further adding to the issue," said Harish Pandey, secretary, NLRRF.
"This is another attempt initiated for further environmental destruction, which has to be tackled immediately. Forest department pillars, setup by the mangrove cell, are adjacent to the site," he said.
The destruction of mangrove forests across the state and construction within 50m of mangrove areas was banned by the Bombay HC in 2005, after public interest litigation (PIL) by the Bombay Environment Action Group. In 2014, based on a PIL filed by environment group Vanashakti, the HC banned reclamation and construction on wetlands.
Officials from both the state mangrove cell and district administration said they will verify the complaint.
"We have directed our field officers to verify the authenticity of these complaints. We will also speak to the district administration and BMC to understand their stand about the two issues. If there has been a violation, action will be taken," said N Vasudevan, additional principal chief conservator of forest, state mangrove cell.
An official from the Mumbai suburban district administration said if the mangrove cell confirms a violation, they will initiate their own investigation.
Close