Marathon route in Thane riddled with potholes
Aug 26, 2018 12:58 AM IST
With the marathon route riddled with potholes, the event may not be smooth for many
It is a rough road ahead for the participants of the 29th Thane Mayor Varsha Marathon, which will be held on September 2.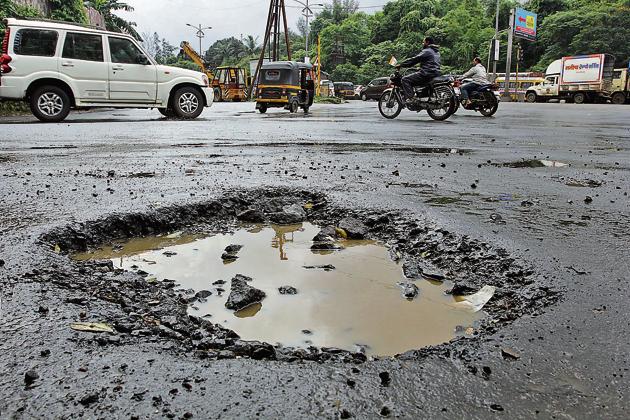 With the marathon route riddled with potholes, the event may not be smooth for many.
A survey of the 21-km marathon route by Thane mayor Meenakshi Shinde found that almost all the roads have potholes. Shinde has directed the civic officials to fill the potholes before the race.
The participants are not sure whether it will get done.
Sunanda Deshpande, 66, a participant in the senior citizen's category, said, "Last year, two senior citizens fell in front of me while running in the marathon. This year, the potholes are much worse. Moreover, if it rains and the potholes are filled with water, we will not even be able to see them."
Senior citizens said if potholes are not repaired by midweek, they would approach the civic authority over the issue.
"It is not only senior citizens but also children who participate in the marathon in large numbers. The corporation should fill the potholes if they want people to continue participating in the run," said Deshpande.
Deshpande said she and her friends, who regularly run the marathon, have decided to wait till Tuesday. "If potholes aren't filled and roads continue to be pathetic, we will approach the civic commissioner demanding better roads," she said.
Most of the roads including Ganeshwadi along Nitin Company junction, LBS Road, Vartak Nagar, Brahmand signal and Ghodbunder service roads have huge craters.
Radha Agarwal, 43, a resident of Hiranandani Meadows, said, "It is dangerous to run on pothole-riddled roads. We have to keep dodging potholes. This slows down runners."
The worst hit is the service road along Ghodbunder. The road is covered with huge craters, leaking pipelines and underground cables popping out on the roads. The Wagale depot, Sawarkar Nagar, Sathe Nagar, Indiranagar, Sawarkar Nagar and Nilkhant areas too are pothole-riddled. The road at Korun junction has worn out.
Shinde said, "I will review the situation on Tuesday."
She has asked the municipal corporation to remove illegal parking from both sides of the roads to ensure there is no obstruction to participants.
A civic official requesting anonymity said, "The work of filling potholes is going on."
Over 16K citizens will run for plastic-free city