More green crackers available in Maharashtra but overall sales low: Sellers
The Maharashtra government has advised citizens to celebrate a noise and air pollution-free Diwali by avoiding bursting crackers but there's no ban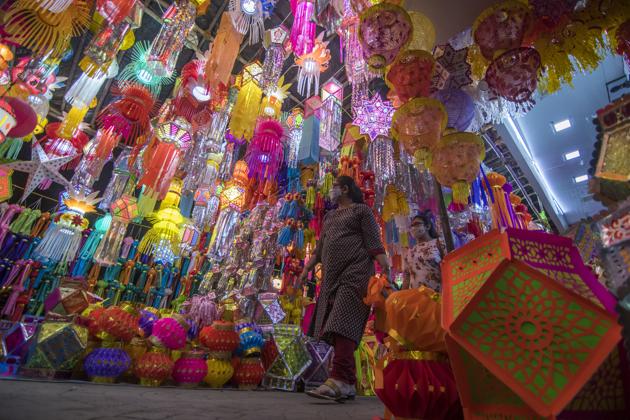 Published on Nov 07, 2020 09:52 AM IST
Mumbai's firecracker dealers and associations have said more green crackers have been made available this year even as the Maharashtra government has advised citizens against bursting crackers this Diwali.
Green crackers emit 30% lower toxic gases than traditional ones and do not contain barium nitrate that increases both air and noise pollution. On October 5, 2019, the Centre announced the use of these eco-friendly crackers across India, developed by the National Environment Engineering Research Institute (NEERI), based on a 2018 Supreme Court order banning the manufacturing of polluting firecrackers.
Last year, the Mumbai and Thane District Fireworks Dealers' Welfare Association said less than 1% of firecrackers sold in the Mumbai Metropolitan Region were green.
"This year, 90% of their current stock includes green firecrackers," said Minesh Mehta, secretary of the association. He added a majority of the crackers have the green hologram verifying that they had been authenticated by NEERI. "The remaining 10% also have green crackers written on them but they do not have that hologram. Thus, we cannot sell them as green crackers. Based on the Supreme Court order, no firecracker dealer can sell anything but green crackers this year."
Firecracker dealer Raju Ghone, who supplies crackers to 56 shops across the Mumbai suburbs, said they too have received more green crackers. "There has been a 50% increase in the number of green crackers sent to us this year but sales have been extremely low," he said.
Environmental group Awaaz Foundation on Friday released a report on chemical analysis of firecrackers being sold in the market, saying while harmful metals and chemicals were identified in all 28 crackers tested, they could not find a single green cracker when samples were bought for testing.
"I am glad to know that eco-friendly green crackers are available in Mumbai. I was unable to find them in the shops last week but would be happy to have them tested so we may know their composition before Diwali," said Sumaira Abdulali, convener, Awaaz Foundation.
Mehta said because of a lack of clarity and time allotted to manufacturers at Sivakasi, Tamil Nadu (the main source for firecrackers) in 2019, there were fewer green crackers then. "Over the past year, manufacturers across 1,300 units in India had enough time to develop and get necessary permissions from organisations like the Petroleum and Explosives Safety Organisation and NEERI to roll out green crackers in India. However, the Covid-19 pandemic did affect one month of production in 2020 since there was a complete lockdown in Sivakasi," said Mehta.
As states across India have banned the use of firecrackers, the Maharashtra government on Thursday advised citizens to celebrate a noise and air pollution free Diwali by avoiding bursting crackers. The Brihanmumbai Municipal Corporation (BMC) on Friday clarified that there was no ban on the use of firecrackers, and if any such directions were to be issued, the state government would do so.
"This has created a lot of confusion among buyers who are constantly asking us whether there is a ban in place. According to us, the state has only requested citizens to avoid bursting crackers in public places such as Marine Drive, Juhu, Bandstand, Carter Road, Worli Sea Face, etc," said Mehta.
Vendors said if there is a ban on firecracker use, it would add to losses much more than what was feared due to the pandemic. "Due to Covid-19, we had predicted only 25% sales as compared to previous years. It has been only 10% so far. On top of that we fear that if a ban is implemented, we will incur massive losses," said Ghone.
A spokesperson from Essabhai Fireworks Pvt Ltd, one of the largest firecracker dealers in Mumbai, said their focus was to sell less smoke emitting firecrackers. "Sales are likely to pick up closer to Diwali," he said.
Mehta said losses were fine as long as the health of citizens were not compromised. "We all want citizens to celebrate responsibly as Covid-19 is still very much a reality for all of us."
Scientists said while banning crackers was necessary across north Indian states and along the Indo-Gangetic plains because of high air pollution, cracker usage should be regulated across central and southern states of India.
Dipankar Saha, former additional director, Central Pollution Control Board said, "A blanket ban is not necessary as we need to rationalise or regulate the burning of crackers based on geographical locations, carrying capacity, meteorological forecasting at respective places. Even if we can think of different time zones for bursting crackers it may help. Economic consequences on firecracker dealers, manufacturers, and suppliers also need to be considered during this pandemic."
Close Story