Mumbai building collapse: In a first, green corridor created for NDRF to reach site faster
Published on Sep 01, 2017 10:53 AM IST
The green corridor was not planned in advance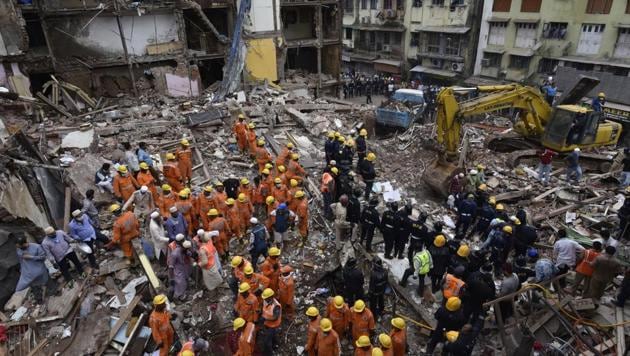 After facing flak for delayed response to the August 29 floods in the city, the state government ensured they reacted promptly after Hussaini building at Bhendi Bazaar collapsed on Thursday morning. For the first time in disaster management operations, the state government jointly with the Mumbai Traffic Police, created a green corridor for the National Disaster Response Force (NDRF) to reach the congested Bhendi Bazaar battling Mumbai's infamous morning peak traffic.
The NDRF team, based in Andheri (West), had to travel a north-south distance of 26km to reach the building collapse site, where at least 31 people were trapped under the debris.
Medha Gadgil, additional chief secretary, relief and rehabilitation, said, "We coordinated with the Joint Commissioner of Police, Traffic, to clear the route for the NDRF vehicle. There was a rider in front to clear the way, while the traffic police were manning CCTV cameras from the control room to clear any bottlenecks on the route in advance. Until now, the concept of a green corridor has only been used for medical emergencies and organ donation. This is the first time we used this concept in disaster management." Gadgil and Chief Secretary Sumeet Mullick were monitoring the exercise from the state disaster control room.
The green corridor was, however, not planned in advance. The state government enabled a green corridor nearly half an hour after the NDRF team left its base at Andheri Sports Complex at 9.05 am. "The NDRF vehicle was caught in traffic. We put the green corridor in action a little after 9.30 am and the NDRF team reached the site around 10.30 am. Without intervention, it could have easily taken the team at least 45 minutes more," an official from the state relief and rehabilitation department said.
The state government recently battled much criticism for its delayed response to the torrential rain that flooded the city and brought it to a standstill. Chief minister Devendra Fadnavis and other ministers were in a cabinet meeting till about noon, while officials from the government's disaster management department said the situation was not dire until about mid-day. The government machinery sprung in action only in the afternoon with the CM visiting the disaster control centre to take stock of the situation and issuing specific advisories.
On Thursday, Subhash Desai, guardian minister for Mumbai's island city, visited the spot in the morning itself and announced an inquiry under Additional Chief Secretary of the state housing department into the incident. Fadnavis too visited the site in the afternoon to review relief operations.
Personalise your news feed. Follow trending topics