From June 23, Mumbai civic body can fine you up to
₹

10,000 for using plastic bags

Updated on Jun 12, 2018 11:27 AM IST
Once the plastic ban comes into effect, you could be fined up to Rs 10,000 if you are seen carrying a plastic bag or taking one from a vendor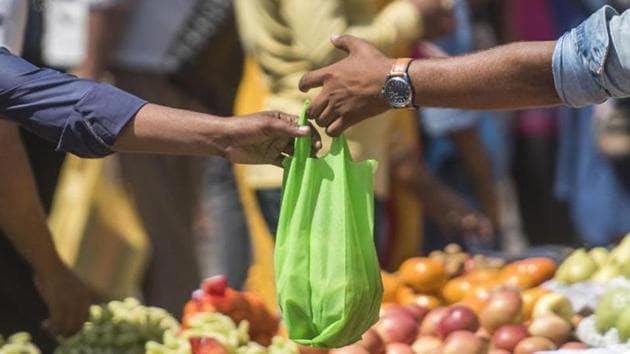 Hindustan Times |
, Mumbai
Eeshanpriya MS
From June 23, the day the Mumbai civic body's plastic ban comes into effect, you could be fined up to Rs10,000 if you are seen carrying a plastic bag or taking one from a vendor.
To enforce its ban effectively, the Brihanmumbai Municipal Corporation (BMC) has published a list of inspectors, who will keep an eye on shops across the city. Soon, the BMC will publish two more lists of inspectors — one for markets and malls, and the second to supervise street hawkers. These inspectors, all employees of BMC's different departments, are authorised to fine citizens and vendors. "Right away, the BMC will begin to fine shopkeepers for handing out plastic items, and citizens who take them," said Nidhi Chaudhari, deputy municipal commissioner in-charge of markets and the license departments. Chaudhari said the civic body gave citizens three months to get used to using paper and cloth bags.
The state government had on March 23 issued a notification banning the use of plastic bags and other one-time use plastic materials, but gave citizens three months to get rid of their plastics and switch to more environment-friendly alternatives.
"Even during this period, there was no stay on fining citizens, but we were giving them a chance to adjust to cloth and paper bags," Chaudhari said. "Now, we will strictly impose the ban."
Three departments will be responsible to implement the plastic ban — the markets department, which inspects the 200-odd BMC markets, the shops and establishments department that will keep an eye on shops across the city, and the license department, which will ensure street hawkers and vendors comply with the ban.A total of 225 personnel from the three departments will be authorised to impose the ban. They will, however, have to carry their identity cards and authority letters signed by the municipal corporation during inspections.
The BMC is also planning to stratify the fine on use of plastic — up to Rs5,000 for the first violation, and Rs10,000 for repeat offenders.