Mumbai Police is set to protect you from Pokemon
Kick-starting their road safety campaign, the Mumbai police are concentrating on the safety of the gaming community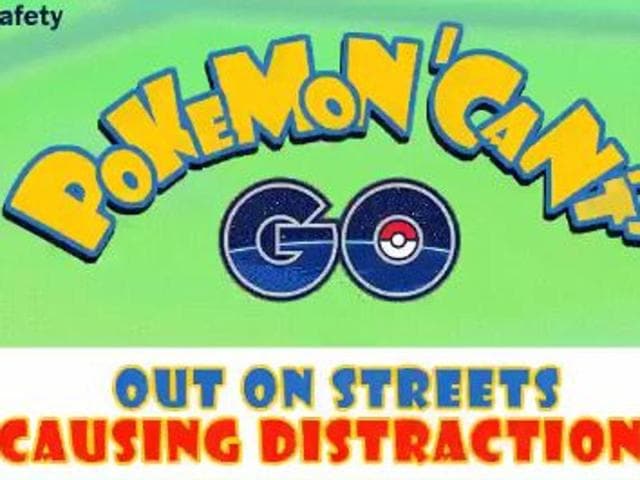 Updated on Jul 26, 2016 01:36 AM IST
Pokémon Go, the hit game, is not only sending players out on the streets to catch Pokémons, but has got the Mumbai police to take measures to prevent any accidents. The official handle of Mumbai police on Twitter even posted a gif with a title, Pokémon can't go out on streets causing distraction.
The tweet has a simple but strong message, "Life is not a game. Especially not one to be played on the roads." The animated Gif shows a Squirtle sporting a mask around his eyes appear on the streets. The policeman then throws a poke-ball at it and successfully captures it.
Speaking to Hindustan Times, Mumbai police spokesperson Ashok Dudhe said, "Public safety is important and the citizens should help us."
Kick-starting their road safety campaign, the Mumbai police are concentrating on the safety of the gaming community. Officials said they don't want two gamers to bump into each other and fall on the road while they are engrossed in the game.
The account has wittily accompanied the tweet, with another post featuring the White Walkers' 'Night King' of the popular show 'Game of Thrones', with the show's dialogue as a tweet: "What we don't know is usually what gets us killed. Roads have never been the best place to play games."
Dudhe said, "The game is played keeping the road safety rules aside. The player has his eyes fixed on the mobile screen. If one crosses the street while trying to catch a Pokémon, it could result into an accident. While playing the game, users should choose 100% safe and secure areas such as a garden or a compound away from traffic."
Dudhe clarified the last Poke-walk organized in south Mumbai by Pokémon enthusiasts was given a nod by the department however the condition was not to keep it at Azad Maidan.
"We told the organisers they would easily get permission for the rally in the city, but they were adamant on using the Azad Maidan ground," Dudhe said.
Sources in the Mumbai traffic police said they have also been asked to be alert in the wake of the game's growing popularity.
"Officers in the 34 traffic divisions across the city have been asked to be on alert and keep an eye out for any mishaps," a traffic police source said.
Close Story