Mumbai's kaali-peelis to launch their own mobile app to race ahead of Uber and Ola
No surge pricing, but commuters will have to pay Rs5 extra as service charge to avail of the facility, say taxi union leaders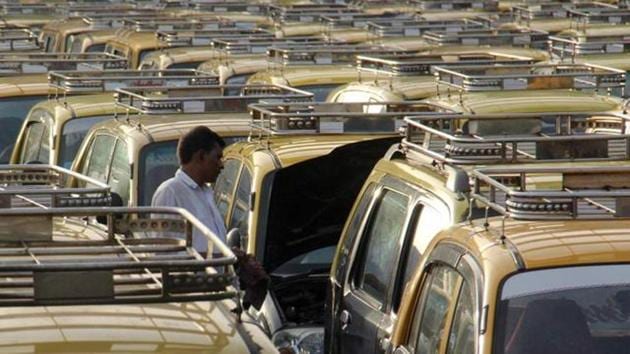 Updated on May 12, 2017 08:57 AM IST
From June 1, Mumbaiites can call for black-and-yellow taxis at the touch of a button on their mobile phone.
Mumbai Taximen's Union and Mumbai Taxi Association plan to launch their mobile application – Aamchi (Our) Drive – for kaali-peelis and Cool Cabs to compete with app-based aggregators like Ola and Uber. That's not all, unlike Uber and Ola, kaali-peelis won't resort to surge pricing – charging extra during peak hours. But the commuters will have to pay Rs5 extra as service charge to avail of the facility.
Just like other apps, on Aamchi Drive, you can select the category, AC or non-AC, and check the estimated fare. Once you book a ride, you will receive a one-time password through SMS.
The taxi drivers in the vicinity will get an alert, and whoever accepts the request first will get to pick the passenger.
Of the 40,000 taxi drivers in the city, 3,000 are likely to sign up for the service. "Commuters will be charged according to government rates during peak and non-peak hours," said Ashutosh Vaidya, head, operations of Sun Telematics.
According to company officials, passengers will get a bill on their email address at the end of the journey.
The app will be available on Android and iPhones and will support 20 Indian languages.
Sandeep Kabre, head, operations, Sun Telematics, said, "Passengers can select the language as per their convenience. They can pay using mobile wallet. Bank accounts of drivers will be linked to the app, so the amount directly be deposited into their account."
Union leaders said every taxi driver signing up for the service will go through a rigorous training on how to conduct themselves in front of passengers.
This is the second attempt to get an app for black-and-yellow cabs.
In 2005, the unions got an app – 9211 Taxi – in collaboration with a private firm, but it did not get good response.
"It was not the right time to launch the app. The service provider was not technologically equipped,"said AL Quadros, taxi union leader.
Prem Singh, another taxi union leader, "By the time the app goes live, new rules to curb surge pricing would come into effect, bringing all of them on a level playing field."
Close Story