Mumbai surgeons remove world's largest brain tumour weighing 1.8kg at Nair hospital
The tumour protruded from top of Santlal Pal's skull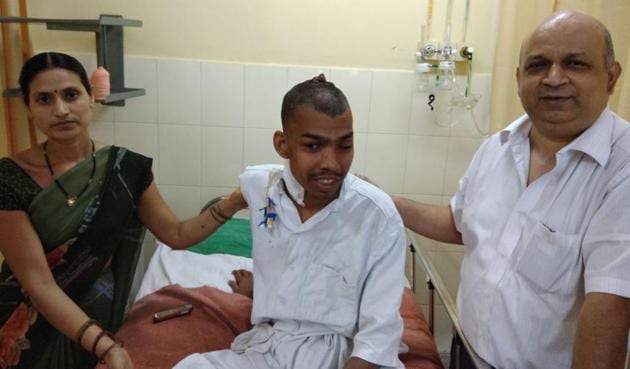 Updated on Feb 22, 2018 10:21 AM IST
hindustan Times |
, Mumbai
Sadaguru Pandit
Surgeons at the civic-run BYL Nair Hospital last Wednesday removed a brain tumour weighing 1.8kg from a 31-year-old man.
Santlal Pal, a native of Uttar Pradesh, was brought to Mumbai after hospitals in Varanasi and Allahabad refused to admit him claiming that the surgery was too risky. The tumour protruded from top of Pal's skull.
Pal was admitted to the department of neurosurgery with swelling under the scalp, heaviness, headache and complete blindness in both eyes on February 1.
"It appeared as if there are two heads mounted on top of each other. Even the scalp vessels had become tortuous and dilated. At the time of admission, the patient was completely blind," said Dr Trimurti Nadkarni, professor and head of neurosurgery at BYL Nair Hospital.
Surgeons investigated the cause of his condition with the help of CT and MRI scans. A specialised CT angiography (used to visualise arterial and venous vessels throughout the body) was performed to study blood supply to the tumour. The primary investigation revealed growth had spread to both sides of the brain through the skull bone.
"We explained the patient and his relatives the risk involved before performing the surgery. The tumour was removed during a 7-hour surgery on February 14. The patient needed 11 units of blood and was kept on ventilator three days after the surgery," said Nadakarni.
After cross-checking medical records, surgeons reached a conclusion that they had removed the world's largest brain tumour, surpassing the previous record set by Nadkarni. In 2002, Nadkarni had removed a tumour weighing 1.4kg at the KEM Hospital. The tumour, measuring 30X30X 20 cm, is the biggest ever reported, the surgeons said.
"Such tumours are rare and are a surgical challenge owing to blood loss. Managing the patient requires great team skill and intensive preoperative monitoring for a successful result. The patient has recovered well and is on a full diet. He feels relieved of 'a large burden on his head'," said Dr Ramesh Bharmal, dean, BYL Nair Hospital.
Close Story