Noisy Ulhasnagar refuses to turn down volume
Sep 23, 2018 12:18 AM IST
It has revealed that drumbeats and firecrackers accompanying the celebrations go on even after 10pm, and the highest level recorded so far has been at 116 decibels (dB)
In June, the National Environmental Engineering Research Institute (NEERI), found Ulhasnagar to be the noisiest city in all of Maharashtra. Three months later, the town continues to hold that tag, with most of its zones crossing permissible levels of noise since Ganeshotsav started on September 13.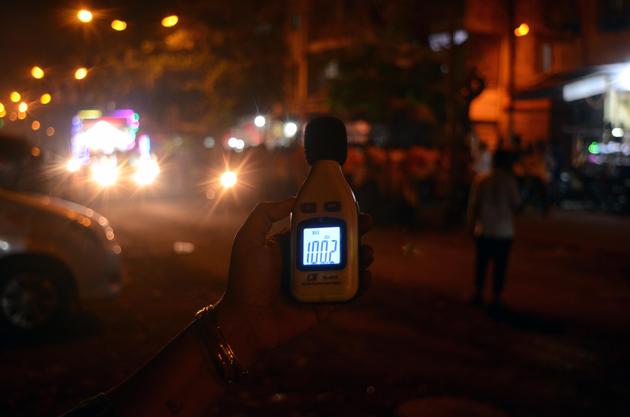 But the Ulhasnagar Municipal Corporation (UMC) has hardly budged to find a solution to this problem.
The current survey, conducted by Hirali Foundation (an NGO), was conducted on all days when Ganpati idols were immersed, at 41 different spots between 4pm and 10pm. It has revealed that drumbeats and firecrackers accompanying the celebrations go on even after 10pm, and the highest level recorded so far has been at 116 decibels (dB).
"Since the NEERI report came out, we decided to carry out an independent survey [on noise levels] as part of our fight against noise pollution. We registered the loudest levels of sound this year," said Sarita Khanchandani, founder of Hirali Foundation, an NGO which has been campaigning against noise pollution since 2011.
At Civic Maternity Hospital in Ulhasnagar 4, the average noise level ranged from 82 dB to 101 dB. Although it is a silent zone, police had to remind people about it using a banner that spelt it out. The survey found that the loudest noise in the zone came from an idol vendor near the hospital since the festivities began. "We complained to the authorities but no action was taken," said Khanchandani.
At Netaji Chowk in Ulhasnagar 5, the average noise levels ranged from 89 dB to 116 dB — the highest in the city owing to the fact that this chowk has many sarvajanik Ganeshotsav mandals (public organisers).
The New English School near the chowk, a silent zone, recorded maximum noise pollution as well.
"As soon as mandals block the road, with their band and dhol tasha pathak, commuters start honking their vehicles to get their way through. A lot of shouting, engines and chaos contribute to the noise. And the mandals also burst firecrackers at chowk junctions," said Khanchandani.
The Bhatia Chowk, which also has a hospital, recorded noise levels ranging from 94 dB to 116 dB on Friday evening. This is a prominent chowk that connects Ulhasnagar to Ambernath and leads to the idol immersion spot for Kailash Colony.
Mrunali Punjwani, 30, a resident of Bhatia Chowk, said, "Once we step out to this chowk, there is a lot of chaos here during festival time. Spending more time here is likely to leave you with a headache."
The Hirali foundation, which conducted similar surveys between 2011 and 2015 in Ulhasnagar, found that the average noise level during the morning was between 71 dB and 80 dB, and during the night, between 89 dB and 95 dB (it goes up to 101 dB if there are crackers bursting).
The NEERI study, commissioned by the Maharashtra Pollution Control Board in 2016-17, recorded a maximum of 86.7 dB during nighttime in Ulhasnagar, whereas a maximum of 91.4 dB was conducted during the daytime.
UMC commissioner Ganesh Patil could not be reached for his comments on this issue. A senior officer of the civic body, on the condition of anonymity, said: "If there is a complaint raised we take immediate action by registering a case against the violators. The civic body has plans to take specific measures in terms of the silent zone for which a private entity will be appointed soon."