Only 3% to 12% women work in India's manufacturing sector, says survey
Hindustan Times |
Yesha Kotak
Feb 20, 2018 12:19 AM IST
The study, based on interviews in 25 companies across sectors, found women were better represented in the service sector
Women are underrepresented in India's manufacturing sector with participation ranging from only three to 12%, a study by Consulate General of Sweden in India reveals.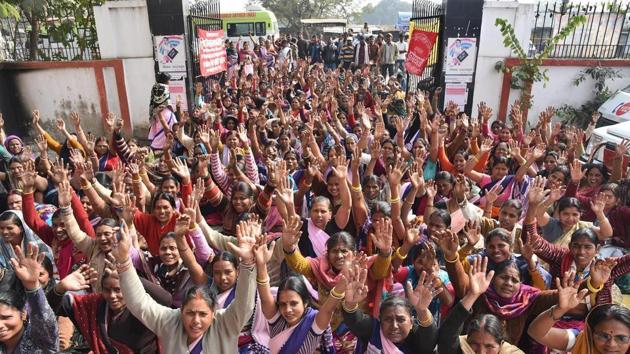 The baseline study, based on interviews in 25 companies across sectors, found women were better represented in the service sector, with participation ranging from 27 to 40%.
"It has been observed that women were not aware about the job opportunities in manufacturing sector, and we need to bridge that gap. Through Kraftsamla (a programme of the Swedish Chamber of Commerce India) we would want to skill underprivileged women from all walks of life and try to provide them with employment in manufacturing sector," said Ulrika Sundberg, counsel general, Sweden.
Ulrika went on to add that under the manufacturing sector some of the products and industries that were included were drilling machines, water filters and manufacturing tools. Whereas in service sector, it was digital solutions, digital services in logistics, managing of funds and communications, or jobs which required soft skills.
Sundberg added that there was huge gap between women who were pursuing education and opting for a job. Figures of those pursuing higher education rose from 39% in 2007 to 46% in 2014, however, not all women opted to work due to various reasons.
Furthermore, in manufacturing, participation rate of women went up to 12% in emerging sectors such as computer engineering, but fell to 3% in core engineering sector.
The study also found a lack of women in senior positions, with just over half of the companies having female leaders at the vice-president level. The study stated an overall lack of female role models.
Sara Larsson, general manager of the Swedish Chamber of Commerce, who was also a part of the study, said women were difficult to retain, which is why few of them made it to senior level.
"It has been observed in India that a woman may take a maternity leave and not come back. To ensure that women are retained, the concept of parental leave should be brought into place, to ease the burden off women's shoulder, and the responsibility could be equally divided between both the parents," said Larsson.
Ami Mehta, HR personnel, was of the opinion that there has been stabilisation in women workforce in service industry. "There is still difference in pay scale when it comes to men and women, but now there are more women who are willing to work, a lot of them don't really mind working odd shifts as well because they want to grow on par with men," said Mehta.