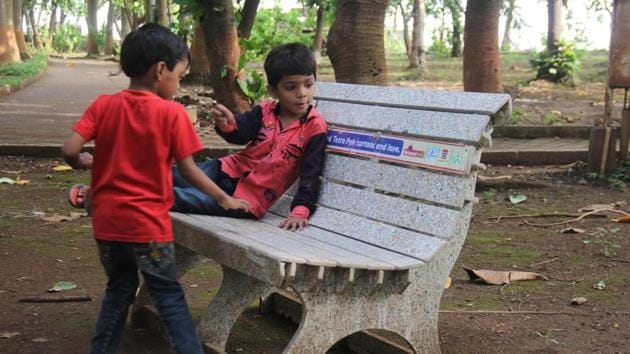 Residents in Mumbai turn 18,000 discarded Tetra Pak cartons into four garden benches
16,000 families from 40 housing societies in Mumbai collected the cartons that would have otherwise ended up at landfills
UPDATED ON AUG 07, 2017 05:05 PM IST
Tetra Pak cartons discarded by more than 40 housing societies in Colaba over the past three years have been made useful by being turned into benches in a garden.
These cartons are tetrahedron-shaped plastic coated cartons, which are popularly known as Tetra Pak cartons (named after the company that innovated the design). With help from waste management experts, 1,600 families from Colaba and Cuffe Parade got four benches made from recycled cartons and installed them at Sagar Upvan, also known as Mumbai Port Trust garden. The residents say they stopped nearly 18,000 cartons from ending up at city's dumping grounds.
According to Are You Reducing Reusing Recycling Greenlife (RUR), which helped residents with recycling, only 20% of used cartons are recycled in the city. The remaining end up at dumping yards, which when mixed with other forms of dry waste the process of decomposition takes much longer and the suppressed methane generated at dumping grounds easily ignites fire.
In 2014, Colaba resident and member of Colaba Advanced Locality Management (CALM) Renu Kapoor saw how the cartons could be recycled when she attended a workshop on recycling conducted by RUR. "It was fascinating to understand how these cartons can be broken down, segregated and recycled into benches, notebooks and desks. So I began collecting Tetra Paks in my garage," she said.
Soon Kapoor and other members of CALM roped in Colaba group 'My Dream Colaba' and began spreading awareness about the initiative in the ward. "It was an excellent idea to be introduced to residents and people were eager to find out what else could be done," said Bela Shah, trustee, My Dream Colaba. "There are plans now to open up more collection centres at different locations within the ward."
The Tetra Pak cartons were collected at Sahakari Bhandar and sent to a firm that recycles waste products in Palghar. Launched in 2010, 'Go Green with Tetra Pak' program is a collaborative initiative by Tetra Pak, RUR and Sahakari Bhandar with an aim to sensitise, educate and make recycling of these cartons accessible to citizens. "With 44 collection centres across the city, we have managed to collect over 20 lakh cartons and recycled them into 250 desks and over 100 garden benches," said Monisha Narke, founder and chief executive officer, RUR Greenlife.
"The entire concept helped citizens come together in terms of community participation. Apart from Tetra Pak recycling, we managed to discuss a host of issues, mostly concerning environmental problems and how to tackle them," said Cynthia D'mello, another trustee of the NGO. "Witnessing the success of this initiative, other wards have decided to replicate the concept."
She added that 6,500 cartons are needed for one garden bench. "Since Colaba residents showed such enthusiasm for their collection, four benches were presented to them even before they reached 24,000. Since it is an on-going collection process, the deficit will be collected over the next few months," said Narke.
The initiative was also monitored and supported by Tetra Pak. "Over the past 15 years, Tetra Pak has been working with various organisations and NGOs to set up a sustainable recycling ecosystem for post-consumer beverage cartons and sensitise society on waste management. This drive is well aligned with Swacch Bharat Abhiyan. This partnership with citizens of Colaba is laudable," said Jaideep Gokhale, communications director, South Asia Markets, Tetra Pak.
AUTHORITIESSPEAK
"This is an initiative, which is purely driven by citizens and stands as a model for the entire city. It is the most simple and effective step we can take to protect our environment. Every household can do a lot more in collecting Tetra Paks that come as milk cartons or juice boxes and help reduce the burden on city dumping grounds." said Makrand Narvekar, independent corporator from Colaba
Close