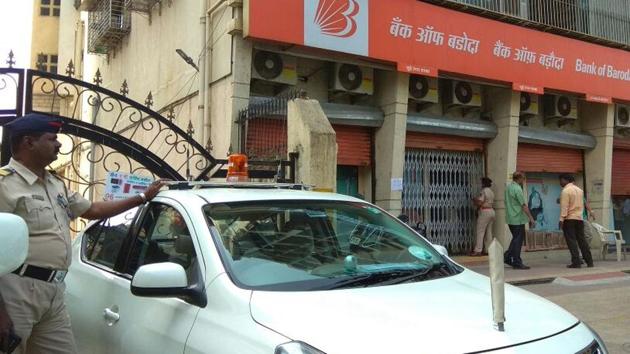 Robbers tunnel into bank in Navi Mumbai, loot valuables worth
₹

6 crore from 30 lockers

Accused tunneled into Bank of Baroda's locker room in Sanpada from a shop next door; police hunt for shop owner who hails from Jharkhand

UPDATED ON NOV 14, 2017 10:04 AM IST
In a plot straight out of a Hollywood heist film, thieves dug a tunnel under a Navi Mumbai bank, broke into 30 lockers and stole valuables worth Rs5-6 crore, police said.
Officials at Bank of Baroda's Sanpada branch came in to work on Monday and found the broken lockers and a gaping hole under them, police said.
After examining the hole, they found it led to a 30-foot-long tunnel that opened into a shop a short distance away from the bank.
According to the police, the shop, a general store called Shri Balaji that was opened in May, was bought by one Gena Bachchan Prasad, a native of Jharkand, a few months ago.
"The tenant has been missing ever since the incident came to light. We have procured the agreement and are now looking for him," a senior investigating officer said, on condition of anonymity. The police, however, said that in such cases, people give out fake names and identity proofs.
While the police are unsure of who the suspects are, they have made some initial observations about the way the crime was committed.
The tunnel, which was five-feet underground, started from the general store and reached the locker room, which was two shops away — in between was the bank's ATM and the office of a security agency.
"After digging one part of the tunnel, the culprits put plywood on the upper side, which was supported by small bamboo sticks. Then they went on to dig another part. They did this to ensure they were not buried underground while committing the crime," said the senior investigating officer.
The tunnel's radius was around 1.5 feet and one person could hardly pass through it, police said.
Hemant Nagrale, police commissioner of Navi Mumbai, said "The bank had 225 lockers in the room and the culprits broke into 30 of them."
Police sources said the culprits mostly stole gold and diamond jewellery deposited mostly by the residents of the area and their total value would be Rs6 to 7 crore.
"The bank had CCTV cameras in the other rooms. However, there were none inside the locker room to respect the privacy of customers," said Kiran Patil, assistant commissioner of police (Nerul) division.
The police are examining the CCTV footage of the other buildings, but have not got a clear view of the people entering the general store in the past three to four months.
They suspect a professional gang executed the crime. "It is not possible for anyone to dig such a long tunnel within a day or two. So, even if we don't have evidence, it is obvious the culprits started digging the tunnel at least three months earlier," said Suraj Padvi senior police inspector of Sanpada police station.
Tushar Doshi, deputy commissioner of police (crime), said, "It is impossible to dig a tunnel that ends exactly under the locker room without having an idea about the bank's structure. It seems the culprits had visited the bank, including the locker room, multiple times. Prima facie it does not appear to be an insider job. But nothing can be said unless the case is solved."
The police have formed 10 teams and have sent their officers to different places looking for the criminals. ACP Patil said, "Earlier, two crimes had taken place wherein culprits broke the adjacent walls and robbed jewellery from stores at Nerul and Kamothe. Both the crimes were solved."
Nagrale said, "We are following certain leads and are hopeful of solving the case soon."
Close