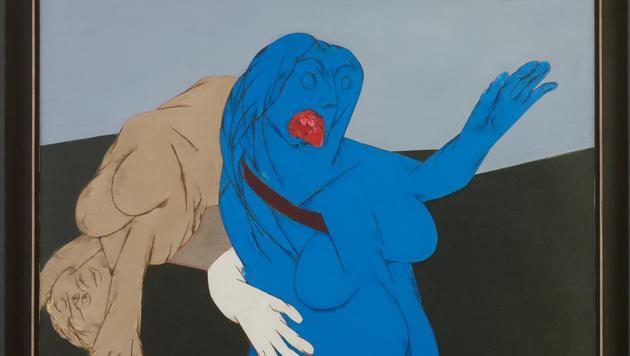 Saffronart's 200th auction: Tyeb Mehta's Kali creates new record , fetches
₹

26 crore

In all, 85% of the lots sold, fetching a total of Rs 75 crore

Hindustan Times | By Krutika Behrawala

, Mumbai

UPDATED ON JUN 15, 2018 12:44 AM IST
Since its announcement as the centrepiece of Saffronart's milestone 200th auction, all eyes were on Tyeb Mehta's iconic Untitled (Kali; 1989). On Thursday evening, the painting that features the raging goddess – one of only three standing figures that Mehta painted in his lifetime – fetched a whopping Rs 26.4 crore (all prices are inclusive of buyer's premium), setting a new record for the modernist. His previous record was set at a Christie's auction where his 1994 Untitled (Woman on Rickshaw) sold for Rs 22.99 crore.
A total of 150 paintings and sculptures by modern and contemporary Indian artists including SH Raza, MF Husain, FN Souza, Manjit Bawa, Nandalal Bose, Akbar Padamsee and Subodh Gupta went on the block during the two-day online auction held on Wednesday and Thursday.
In all, 85% of the lots sold, fetching a total of Rs 75 crore.
VS Gaitonde's 1965 untitled beige-and-white canvas that reflects the artist's synthesis of eastern and western art philosophies and Raja Ravi Varma's rare interpretation of Shiva as a divine teacher dating back to 1903 netted Rs 5.94 crore and Rs 3.6 crore respectively.
The auction set world records for five other artists - NS Bendre, M V Dhurandhar, Sankho Chaudhuri, Sheila Makhijani and Dhananjay Singh.
Among the sculptures up for sale, Gupta's Hungry God (2005-06) led the show. The 8.6-feet tall sculpture made with stainless steel utensils netted Rs 1.46 crore.
This auction marks 18 years since the Mumbai-based auction house was launched by the husband-wife duo of Dinesh and Minal Vazirani, giving India its first online art auction house.
Over the years, Saffronart diversified from a portfolio of purely modern and contemporary art to include antiquities, books, textiles, folk and tribal art. It also adopted a hybrid model that converges online and offline auctions where buyers can bid in the room, online or on their cellphones.
This auction was conducted entirely online. "Our focus has been to make the best of Indian art accessible to audiences around the world," Dinesh said. "Back then, we were told this concept wouldn't work."
However, their first online event set the ball rolling, with sales amounting to $100,000. "At that time, the modern and contemporary Indian art auction market was globally valued at less than $2 million," says Minal. "We like to think we helped change how Indian art is acquired."
Close