SoBo office complex becomes self-sufficient by installing largest solar power setup in Mumbai
Published on Sep 25, 2016 10:57 PM IST
Panels generate 900 kilowatt hour (KWh) solar energy daily, which caters to all electrical consumption for the three-storeyed building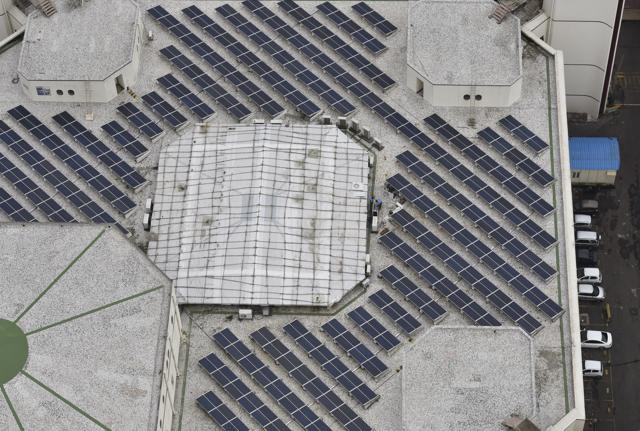 A large office complex in Mumbai has shown how the city can put to good use its vast rooftops, and in the process save money and reduce the hazardous impact of power generation on the environment.
The Arcade building, with 120 offices at MVIRDC World Trade Centre (WTC) at Cuffe Parade, Colaba, is the first large commercial establishment in the city that is powered through solar energy. The 808 solar panels, spread across 25,000 square foot roof, generate 250 kilowatt peak power (KWp) system that has reduced their annual electricity bill by 30%. The power generation system is connected to the grid, which means that electricity produced on a holiday is fed into the public system.
"Solar power is attractive because it is abundant and offers a solution to the negative effects of fossil fuel emissions and global climate change," said Kamal M Morarka, chairman, WTC Mumbai, a non-profit organisation that helps in facilitating trade. "With the demand for energy rising exponentially, the entire state is undergoing a transformation in how it generates electricity." The complex is named after Sir Mokshagundam Visvesvaraya, a champion of the manufacturing industry.
The panels generate 900 kilowatt hour (KWh) solar energy daily, which caters to all electrical consumption for the three-storeyed building, including the air conditioning system. An average household in Mumbai uses 10-15KWh electricity per day.
"The panels will generate a total of 3 lakh KWh solar energy annually. After incurring the initial cost of Rs 1.75 crore, we will be saving Rs 45 lakh every year after four years through this mode of energy consumption," said Dinesh Sharma, director engineering, WTC.
Greater good
The commercial complex has also installed a system that allows excess electricity generated by the solar panels to be sent back to the grid, which is compensated by the electricity supplier at the end of the year. Designed and built by a private company, Maxwell Solar and Wind Energy Pvt Ltd, each aluminium panel generates 310 watt and uses poly crystalline technology.
"On a sunny day, the panels will provide full capacity amounting to 900 KWh per day. However, during monsoon , the capacity decreases to 500 KWh per day, a drop of 40%. With net metering system, if the complex generates 27,000 units of electricity per month and the requirement was 25,000, the excess 2,000 units would be carried over to the next month and so on," said an official from the private company.
Scientists said that using this renewable source of energy will help minimise pollution and reduce carbon emission, especially for a city like Mumbai. "It is the need of the hour for large commercial buildings, educational institutions and housing complexes to switch to solar. More rooftop solar projects will have a significant impact in reducing fossil fuel emissions," said Rakesh Kumar, director, National Environmental Engineering Research Institute (NEERI).
Close Story
Personalise your news feed. Follow trending topics