Street crime dips in Mumbai in 2017, with chain-snatching falling hardest
Updated on Jan 29, 2018 10:16 AM IST
While 445 cases were registered in 2016, only 166 cases were filed in 2017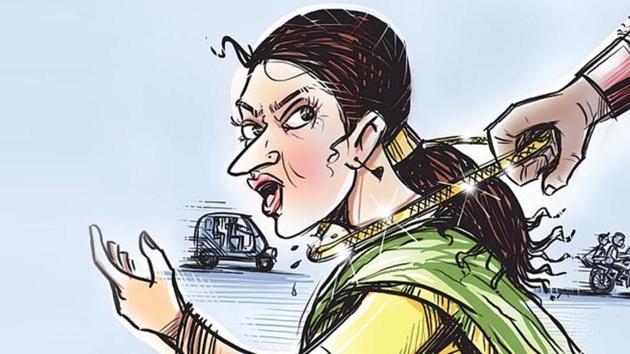 Hindustan Times |
Vijay Kumar Yadav
Street crime in the city dipped in 2017, with chain-snatching cases in particular seeing a significant drop. While 445 cases were registered in 2016, only 166 cases were filed in 2017.
Senior officials said the reduction in street crime was a major relief as crimes like pickpocketing, chain-snatching and thefts directly affect citizens and the police have managed to control them by promptly reacting to incidents and intensive visibility of cops on roads.
The only serious crime head that saw an increase in 2017 was robbery, in which 805 cases were filed last year as against 700 in 2016.
The city, which was once notorious for underworld activity, again managed to keep them under control. The number of extortion cases also saw a dip with just 193 in 2017 as against 228 in 2016. Most of the big names are inside prison with the police arresting key Chotta Rajan aide DK Rao. Rajan himself is in Tihar jail in New Delhi and Thane police arrested Dawood Ibrahim's brother Iqbal last year.
Former director general of police (Maharashtra) Praveen Dixit said the overall policing in the entire city has improved. "Prompt policing and strategic bandobast during peak seasons has ensured that the police have managed to handle various situations properly. The law and order situation in the city has improved considerably," he said.
Police officials added they are keeping a watch on drug addicts and peddlers as they are the ones who increase petty crimes like thefts and others. They said that ever since 2014, when Rakesh Maria was the Mumbai police commissioner, the city police have cracked down on drug addicts to keep petty crime under check and this policy continued in 2017.
Senior brass in the police department said commissioner of police Datta Padsalgikar has been "very consistent" in being a hands-on manager of the force. This mainly includes functioning of the Anti-Terrorism Cells (ATCs) at police stations, which keep a strict vigil in all suspicious activities in their respective regions. Police presence in any area works as a deterrent factor to keep criminal elements under control. "Police prevent many crimes and they never make it to the official statistics," said a senior officer.
Apart from this, officials said patrolling of women cops in police vehicles dedicated only for crime against women and senior citizens, also made a difference. These cops are given gadgets like smart tabs, helping them respond to distress calls promptly.
Police spokesperson DCP Deepak Devraj did not comment on any of the queries.