Suspense continues as BJP stays silent on Narayan Rane move
Published on Sep 26, 2017 11:10 PM IST
The impression is the BJP wants to keep the senior leader waiting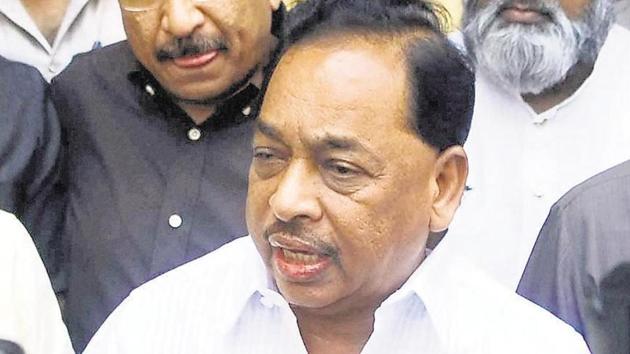 Despite a meeting and discussion between former chief minister Narayan Rane and Bharatiya Janata Party (BJP) president Amit Shah in Delhi on Monday, the party has remained reticent about the senior leader's entry into the party.
This is the second meeting Rane held with Shah in the past two months. Just prior to meeting him at his residence, Rane had held an independent discussion with state president Raosaheb Danve, state revenue minister Chandrakant Patil and chief minister Devendra Fadnavis at Danve's residence in Delhi.
A day after the Delhi meeting, Shah paid a visit to Mumbai's Rashtriya Swayamsevak Sangh (RSS) office to meet Sangh leaders, including general secretary Suresh alias Bhaiyyaji Joshi. While the meeting was to brief Sangh leaders about the deliberations at the national executive committee meeting held in Delhi, it is possible Rane's induction could have figured in the talks. Joshi refuted this, saying Rane's entry or otherwise was an issue to be discussed by the BJP and he was not its leader.
There is little denying that so far hectic parleys have been held over Rane joining the BJP. For now, the impression is that the BJP wants to keep the senior leader waiting.
Sources told HT a deal with Rane had been nearly finalised and was likely to be announced after Diwali, when Fadnavis is likely to rejig his cabinet. As HT reported on Tuesday, it is likely Rane will be asked to float his independent front and join the BJP-led government as a smaller ally. This option is being considered to fend off an attack from the Shiv Sena and also because many in the BJP are not comfortable with the idea of Rane being part a part of the BJP. Given his experience and status of former chief minister, Rane will emerge as de-facto number two after Fadnavis among the BJP ministers, which could make things complicated within the party. The BJP-led government has the support of smaller allies like the Rashtriya Samaj Paksha, the Republican Party of India, the Swabhiman Shetkari Sanghatana (until recently), whose leaders have been inducted in the cabinet.
However, there has been no official confirmation on this development. It also remains to be seen whether Rane will agree to such a deal.
"Both parties are bargaining and right now we have a better hand at holding the negotiations. The party top brass would like to see what he can bring to the table. It's possible that as an independent front, he can break away more legislators. His performance in the local polls will also count,'' said a senior BJP functionary.
He, however, added the picture will be clearer by the end of this month.
Read more:
Has Rane shut all doors on himself?