Food poisoning on Tejas Express: Railways gives itself a clean chit
IRCTC says food served was fine, only 26 of 230 passengers fell ill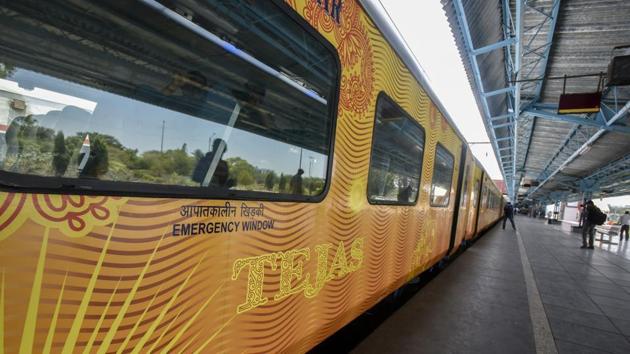 Updated on Oct 17, 2017 12:18 AM IST
Hindustan Times | By Aroosa Ahmed
, Mumbai
A day after 26 passengers were hospitalised for food poisoning after they consumed breakfast on Tejas Express, the Indian Railway Catering Tourism Corporation (IRCTC) has, in its preliminary report, given a clean chit to the food served in the train.
The report prepared by IRCTC, which is responsible for all railway ticketing and catering services, says that out of 230 passengers, who were served the food, only 26 passengers spread across four compartments felt uncomfortable. The preliminary findings indicate that people could have suffered from food poisoning after consuming the food they had carried with them.
"Food in the express train is being supplied for more than six months now and there have been no complaints so far. On Sunday also, the food was supplied in the same manner. Other passengers in the train even praised the food served. A majority of them did not complain of any side effects or discomfort," said a senior IRCTC officer.
The official also said that the food samples including soup sachets served by railway catering contractor were within expiry date. The test results of the samples is not yet out and the final report will be submitted within 10 days after the test results are released.
The preliminary report tracking the incident states that members of a tourist group from Himachal Pradesh were the first ones to say that two children were feeling uneasy and had vomited in the compartment. The smell made other passengers queasy. In what seemed like a cascading effect, two other children also vomited in the same coach, says the report. This had an impact on people in other coaches too and another tourist group from Kolkata also said they were feeling unwell and experiencing symptoms of food poisoning. The tour manager of this group told IRCTC officials that they were also carrying packed personal food that included fish. Officials are now looking into the details of these two groups.
On Sunday afternoon, passengers travelling on the Mumbai-bound semi-high speed Tejas Express complained of uneasiness and food poisoning after consuming breakfast and soup in the train. They were admitted in Lifeline hospital in Chiplun after the railways made an emergency halt. All the passengers have been discharged from the hospital, said Konkan railway officials. The IRCTC has suspended two of its officials after the incident, including the on-board manager and Madgaon-based area officer.
Close Story