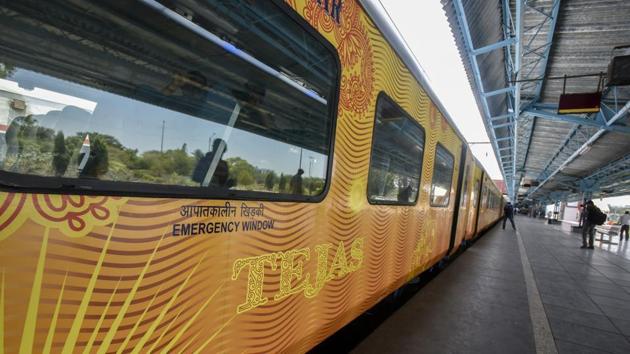 Tejas Express leaves Goa 3 hours late, still reaches Mumbai a minute early
Mumbai city news: To make up for lost time, the train travelled at 153 kmph between Karmali and Kudal
UPDATED ON JUN 21, 2017 09:46 AM IST
Commuters at Mumbai's Chhatrapati Shivaji Terminus were pleasantly surprised to see the Tejas Express arrive a minute ahead of schedule on Sunday, considering that it had left Karmali station in Goa after a three-hour delay.
The luxury train, capable of running at a maximum speed of 200 kmph, train left Goa at 10.30am and travelled 710 km to reach Mumbai at 7.44pm. It usually leaves Goa at 7.30am and arrives at 7.45pm.
This was the train's first journey under the new monsoon timetable, put in place as a safety measure against the rough terrain. The premium train will run thrice a week from Mumbai and will return from Goa the next day. During the monsoon, the train is expected to take 12 or 15 hours to reach its destination, as against the usual eight-and-a-half hours.
An empty coach from Mumbai arrived late, delaying the train's departure, said LK Verma, chief spokesperson of Konkan Railway. "The changed timetable led to the delay. This train is always on time otherwise," he added.
The train was reached Kudal two hours and 17 minutes late and Ratnagiri about two hours late. However, when the train arrived at Panvel, the train was just 14 minutes late than the scheduled time. The train reached its final destination CST one minute before the scheduled time of 7.44pm.
.
Close