The beautiful game: Mumbai students raise money for poor kids through football
Aug 12, 2018 05:20 PM IST
The idea behind HelpOut is to help a few children join a government school in Ladiwali.
"We wanted to help the kids get education. We decided to raise money so that they could go to schools, just like us."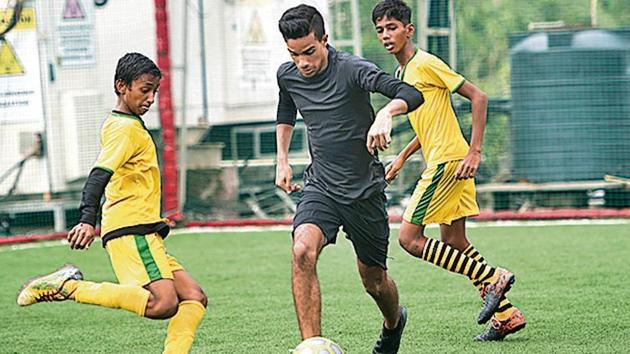 Shiv Kampani, a Class 9 student of Dhirubhai Ambani International School, is narrating why a group of eight students decided to form HelpOut. As he explains the idea behind HelpOut, an organisation to help a few children join a government school in Ladiwali, his friends could be seen busy with various technicalities of their fund-raising event.
Their parents, along with their other friends were just around the corner, but for the latter, their event management skills had been put to test. The goal was simple — create events, raise funds, and send it to help children in the village in Karjat.
At an age when managing to get a few rupees from one's parent should grant one the bragging rights in his/her circle, these eight kids have taken it a step further. They wouldn't ask for money but earn them through events. Their first event, in April earlier this year, had seen them earn ₹75,000. Their second, a football tournament, was only meant to get bigger. They got 24 teams on board, each of whom had to pay a registration fee of ₹5,000, and cutting down costs of the event, the rest would be used to help the children in Ladiwali.
The children went door-to-door and waited outside their society during peak hours to urge friends and society members to help them find kids who are interested to take part in the tournament. Their hard work did pay off as more than 170 students registered for the under-17 tournament. While the group stages were held on Saturday, the knockout stages, including the final, are scheduled to take place on Sunday.
"It feels good actually. You see them happy after you help them. It puts a smile on your face," says Azad Parikh, the youngest of the lot. A Class 5 student, one could vividly see the energy Azad carried around being a coordinator while being oddly shy to pave way for his seniors to take stage. Although there's no hierarchy in the group, there's the self-appointed monitor — Siddharth Makharia (15 years old). "Since I'm the eldest, I feel that while all others can fool around, I need to be serious. If everything else fails, everything comes on me. Because, I'm the eldest. So I'm supposed to be the most matured one."
And then there's Elisha Parikh, Azad's elder sister. The Class 7 student of Dhirubhai Ambani School bakes cakes and cookies and sells them in the neighborhood, society and so on and donates all her earnings to the organisation. While HelpOut is only around six months old, Elisha has been baking since the age of seven. While previously her earnings, which are priced at a modest rate between ₹20 and ₹30 per cookie, were collected to feed the poor on roads, the money is now put together for the organisation. She's the only steady contributor and that's a bonus as there are no monthly targets that these children have set for themselves.
Roles are cut out for the rest of the members — Diya Jain, Avantika Kampani, Devarya Shah and Krrish Jain — as well.
"It was a nice experience because our kids, who stay in the city, are unaware of how life is in the village. And we keep encouraging them to visit the places and see how things work. It's an eye-opener for our children as well," Azad and Elisha's mother Enakshi told Hindustan Times. "We don't want to call up people and ask for money. We want our kids to earn it. We can come up with a lot of things but the kids need to be interested in it."
Topics