The black cat in Bombay's path
Updated on Nov 24, 2018 12:01 AM IST
All you need to know about Bombay, an award-winning cat breed from America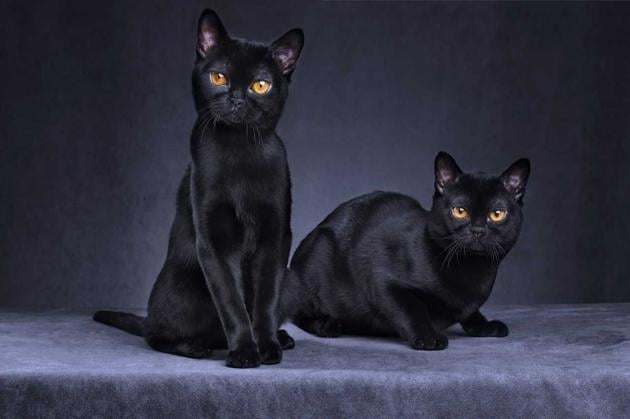 Wait, Bombay is the name of a breed of cat?
Indeed. And a pretty prized breed too. The cats are black, sleek, with a shiny wet-looking coat and coppery eyes. Their round heads and short muzzles make them stand apart from other breeds and those eyes? They're round and piercing with black rims, unlike most almond-eyed cats. Even their paw pads are dark – black or deep brown.
Hang on. That sounds like a panther...
That's the point. The Bombays walk is panther-like as well. It has a slow, distinctive sway.
So it's from Bombay?
Nowhere close. Bombays were bred in America in 1953 by champion breeder Nikki Horner, who paired the black American Shorthair and sable Burmese to develop a "parlour panther" – an animal that looked wild but was really domestic. Horner, a cat breeder and exhibitor since the age of 16 – she was also Miss Kentucky USA in 1954 – had bred award-winning American shorthairs, Burmese, exotics, Himalayans, Persians, and Siamese cats. But the Bombay took some time. It was officially recognized by the Cat Fanciers' Association only in 1976. And yes, the name references the idea of exotic India.
What are Bombays like? Crowd-loving? Bustling? Friendly?
Pretty much. The breed is among the most affectionate. They love laps (and naps), take to leash training easily, like people, aren't scared of strangers and can entertain themselves. They're also loyal (they'll follow you across the house) and often recommended as a breed that dog-lovers will like too. They'll fetch objects you throw, and love cuddling up. That's cool for a cat.
So they make great pets.
And great show cats too. Horner, who died in 1995, nicknamed the Bombay "the patent leather kid with the new penny eyes". The Cat Fanciers' Association recognises 22 kinds of black cats. These include the Norwegian Forest, Japanese Bobtail and Scottish Fold. The Bombay is the easiest to groom. It doesn't shed much fur and owners tend to give its body a polishing with chamois cloth to makes its coat shine. All in all, less trouble to maintain than its namesake city.
Personalise your news feed. Follow trending topics