14 lose eyesight after surgery in Maharashtra's Washim
Hindustan Times |
, Mumbai
Priyanka Vora
Nov 05, 2015 12:01 PM IST
Fourteen residents of Washim, Vidarbha, have lost vision in one eye after infection caused during a cataract surgery at a district hospital.
At least 14 people have lost their vision in one eye after a botched surgery to remove their cataract at a district hospital in Maharashtra's Washim.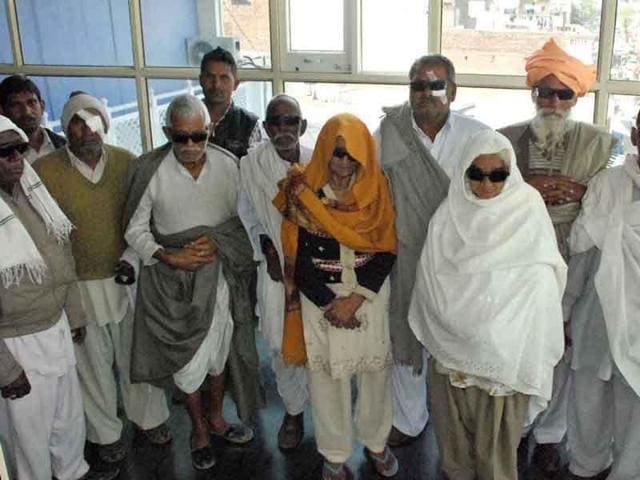 These 14 people are among the 22 patients who were brought to Mumbai's Sir JJ Hospital after they complained of pain, swelling in the eye and loss of vision after two to three days of undergoing surgery at the civil hospital.
Stay tuned with breaking news on HT Channel on Facebook.
Join Now
The first batch of patients were operated on October 15 in Washim and within a few days some patients came to the civil hospital complaining about a loss of vision.
Preliminary investigations at Sir JJ Hospital suggest that contaminated surgical instruments could have caused bacterial infection and found all these patients had developed the infection called pseudomonas.
"We are still examining all of them. So far, we could restore vision in just three patients. There is a clear negligence on the part of the operating team," said Dr TP Lahane, dean of JJ hospital adding the surgical tools may not have been sterilised properly with the process known as autoclaving.
According to Dr Lahane, such complications can be completely cured within 24 hours of the symptoms of infection.
"Even if these patients were brought within two to three days of developing the infection, we could have been able to save their vision. Now, I have sent six teams to trace all 171 patients operated in October at Washim. They need to be screened for the infection," he said.
Doctors at Sir JJ Hospital said that more patients could lose their vision.
"We had got my mother (Dagdabai Vadule, 65) to the hospital so that she could see well. Now, she has gone blind in her left eye," said her son, a daily wage earner who has exhausted all his money because of the sudden hospitalisation.
The tragedy, health department officials said, could have been avoided if doctors in Washim had alerted the state health department immediately after the patients developed complications.
The directorate of medical education and research (DMER) said that instead of referring patients to hospitals in Mumbai and Pune which are equipped to handle such cases, the Washim hospital sent them to Akola Medical College.
"Again the medical college, knowing they are not equipped to handle the cases, kept these patients admitted at their hospital. It was only when we learnt that such an incident has taken place, we brought the patients by ambulance to Mumbai," said Dr Satish Pawar, director at DMER.
The state health department has suspended five employees, including an ophthalmic surgeon, medical superintendent and three ophthalmic officers, for negligence.
"Further action will be decided depending on the report submitted by the committee which is investigating the matter," said Dr Deepak Sawant, state health minister.
Dr PP Chavan, an ophthalmic surgeon from Washim who is at Sir JJ hospital along with the patients, however, told HT that he was not at fault.
"I have performed 7,000 cataract surgeries in my career. This is the first time, we have come across such a complication," said Dr Chavan.